Il rapper Kid Ink ha rilasciato il 25 dicembre 2014 il video ufficiale che accompagna il nuovo singolo Blunted, che anticipa il rilascio del terzo disco registrato in studio, che sarà pubblicato il 3 febbraio 2015 e che si intitolerà Full Speed.
Dopo i precedenti Body Language ft. Usher e Tinashe e Cool Back, Brian Todd Collins in arte Kid Ink ha lanciato il terzo tassello della terza era discografica, preordinabile nei digital store come Amazon. L'album arriva a poco più di un anno di distanza da My Own Lane, grande successo del rapper di Los Angeles, che in America è andato davvero forte. Nelle chart "album rap", "R&B/Hip Hop Album" e Top 200 e Top Digital Album, il disco ha infatti ottenuto rispettivamente il primo, il secondo ed il terzo posto.
A dieci giorni di distanza dal filmato di Cool Back, l'artista passa già avanti rilasciando il giorno di Natale la nuova clip del brano Blunted, rilasciato in digitale il 23 dicembre scorso.
Si tratta di una sorta di inno ai fumatori di erba, il rapper si vanta infatti di fumarne circa un chilo al mese… alla faccia!
Per vedere questo video, che come il precedente è stato diretto da Dan Centrone, cliccate sull'immagine sottostante, mentre a seguire potete leggere le parole in inglese che compongono l'inedito.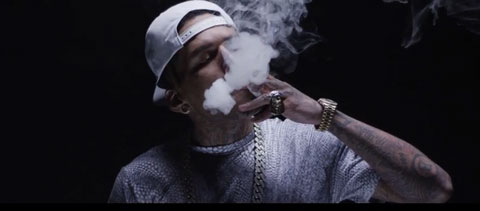 Testo Blunted – Kid Ink (Digital Download)
I got 1.5 for the blunt
Go ahead and pass me a Swisher
Blunted, blunted, blunted, where the blunt at?
I got 1.5 for the red eye flight
If you tryna get high bitch just my type
Sittin' in the room full of disco lights
Pair of shades on, I'm the coolest nigga on sight
Tell 'em hide that, where the fuck you buy that?
I can't even try that, glad I got my own shit wit me
Catch up, if it's OG match up
But you ain't got a Swisher then we ain't gon' session
This mothafuckin' weed so sticky
Breakin' this down get ya fingers so messy
You gon' put a hole in the blunt, keep rushin'
Shoulda used a grinder ho, then [?]
You could say I'm an addict
Got a gram of the wax if you need a dab hit
Must keep it in a jar cause these niggas cabbage
What you smoke, 420 is my fuckin' average, imagine
Blunted, blunted, know you can smell me comin'
Said blunted, blunted, everybody always like "sell me somethin'"
But this sack cost more than a 20
You can roll one of mine just wrap it like a mummy
Straight top shelf in the store
Stole the connect, now I get it for the low
So you know I got…
[Hook:]
1.5 for the blunt
Go ahead and pass me a Swisher
Smoke about a pound in a month
I don't even pay no attention
I got 1.5 for the blunt
Go ahead and pass me a Swisher
Stay blunted, blunted, blunted
Where the blunt at?
Blunted, blunted, where the blunt at?
Blunted, blunted, where the blunt at?
I got 1.5 for the blunt
Go ahead and pass me a Swisher
Stay…
Roll one for the niggas who fronted, for the bitches who want it
Roll one for the money, roll one to the face
That's 4 if you countin', high as a mountain, all for these ounces
Stuck in the middle of the couch with cotton mouth
I need a sip from the fountain
So gone think I left a couple nugs at ya crib
Make sure you hit a nigga when you found 'em
Blunted, blunted, me and my niggas treat weed like money
Said blunted, blunted, if I smell another seed I'm runnin'
Said, no sticks, takin' shots while you hittin' bricks
Know I got the juice and you niggas nowhere in the mix
Be consistent, what you smoke hit or miss
I roll up OG every intermish
O-OG, make a mothafucka OD
Hit ya body like morphine, army
Babysittin' the blunt, I'll get you a car seat
Fuck what it cost me, these dividends is all goin' to the medicine
It ain't one of the 7 sins, rollin' with these 7 grams
Sorry baby if there's weed hangin' out the end
But its…
[Hook]