Show Me Love è un singolo degli Hundred Waters, ora riproposto nella versione Skrillex Remix feat. Chance The Rapper, Moses Sumney e Robin Hannibal. Originariamente, il brano era incluso nell'album The Moon Rang Like A Bell pubblicato nel 2014, mentre l'anno dopo è stato incluso nella versione remix del citato album ovvero The Moon Rang Like A Bell Remixed.
Per chi non li conoscesse, gli Hundred Waters sono un gruppo americano formatosi nel 2011 e composto da Nicole Miglis, Trayer Tryon e Zach Tetreault.
La nuova versione del loro singolo Show Me Love (audio della prima versione) è stata rilasciata il 22 marzo per la label di Chance The Rapper e Skrillex, che ha donato al brano il suo "magico" tocco. Per quel che concerne il testo, rispetto a Show Me Love del 2014, sono state aggiunti i versi di Moses Sumney, Chance The Rapper e Robin Hannibal.
La canzone è accompagnata dal video ufficiale diretto dallo stesso Skrillex e prodotto da Nina Soriano.
Per vedere il filmato cliccate sull'immagine, dopo la quale trovate il testo in inglese.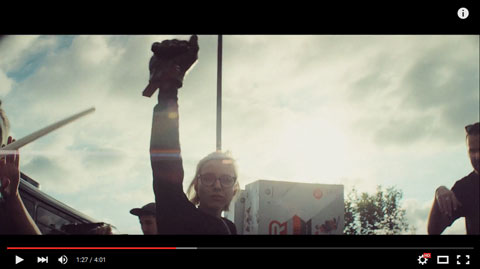 Show Me Love testo (Skrillex Remix) Hundred Waters feat. Chance The Rapper, Moses Sumney & Robin Hannibal (Digital Download)
[Hook: Nicole Miglis]
Don't let me show cruelty
Though I may make mistakes
Don't let me show ugliness
Though I know I can hate
And don't let me show evil
Though it might be all I take
Show me love
Show me love
Show me love
[Verse 1: Moses Sumney]
I got a crick in my neck, limp in my step
Crampin' in my muscles every time I try to flex
We're broken
Not really in the right mindset to seem open, open
Never really been fought out, like a politician martyr
But you make me listen to your petition rise
Love, let's get on
Baby I'll show you love
[?]
It's very sad, no more love
But if you throw me love, I'll throw you some more
[Hook: Nicole Miglis]
Don't let me show cruelty
Though I may make mistakes
Don't let me show ugliness
Though I know I can hate
And don't let me show evil
Though it might be all I take
Show me love
Show me love
Show me love
[Verse 2: Chance The Rapper]
Show me love when I pop out, when I pop out
City I always talk 'bout, what I rap 'bout
Show me love cause I love it, I love it
Only thing I could covet, in public
I just came to show love, you just glad I showed up
Boy respect your elders, I'm a fucking glo'n up
Broski told me "Go nuts", Fo Nem ain't for No number
But no talkin' at dinner, or to bacon that eat donuts
City on a come up, I might share my bonus
Cases of Coronas and my lil marijuana
I'm a face a whole dub, oz's for my soldiers
Tell them haters hold up, them niggas gotta show love
[Hook: Nicole Miglis]
Don't let me show cruelty
Though I may make mistakes
Don't let me show ugliness
Though I know I can hate
And don't let me show evil
Though it might be all I take
Show me love
Show me love
Show me love
[Bridge: Nicole Miglis]
I see you, you see me
Aliens hanging on, release me
Don't let the feeling that I'm all alone deceive me
Just let me in and show me love
[Hook: Nicole Miglis]
And don't let me show evil
Though it might be all I take
Show me love
Show me love
Show me love
And don't let me show evil
Though it might be all I take
Show me love
Show me love
Show me love