Dal 25 aprile 2017 viene distribuito nelle sale cinematografiche italiane l'atteso secondo capitolo di Guardiani della Galassia (titolo originale Guardians of the Galaxy Vol. 2), pellicola scritta e diretta da James Gunn. Si tratta del sequel di Guardiani della Galassia (2014).
Dal precedente 21 aprile sono disponibili le due colonne sonore: la prima si intitola "Guardians of the Galaxy Vol. 2: Awesome Mix Vol. 2 Original Motion Picture Soundtrack)" ed include quattordici canzoni di artisti vari, una delle quali utilizzata esclusivamente nel trailer.
La seconda colonna sonora (Original Score) include invece musiche composte per il film dallo statunitense Tyler Bates, per un totale di 19 tracks.
La colonna sonora di artisti vari è disponibile nel formato digitale e nel classico CD, mentre la seconda solo in digital download. Entrambe le soundtracks sono ascoltabili gratuitamente nelle principali piattaforme streaming.
A seguire trovate i titoli delle canzoni in scaletta ed i link per accedere all'audio integrale dei due album.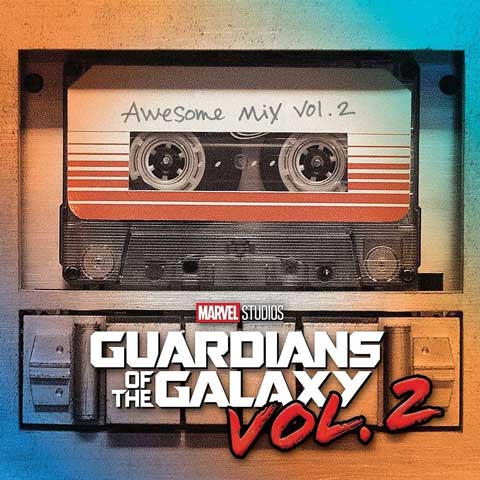 Tracklist Guardians of the Galaxy Vol. 2 (Artisti Vari) [Audio CD – Download – Audio – Audio Mixtape vol 1 e 2 by Holliwood Records]
L'unica canzone in scaletta non ascoltabile nel film ma utilizzata nel trailer è Fox on the Run.
Electric Light Orchestra – Mr. Blue Sky
Sweet – Fox on the Run
Aliotta Haynes Jeremiah – Lake Shore Drive
Fleetwood Mac – The Chain
Sam Cooke – Bring It On Home to Me
Glen Campbell – Southern Nights
George Harrison – My Sweet Lord
Looking Glass – Brandy You're a Fine Girl
Jay and the Americans – Come a Little Bit Closer
Silver – Wham Bang Shang-A Lang
Cheap Trick – Surrender
Cat Stevens – Father and Son
Parliament – Flashlight
The Sneepers feat. David Hasselhoff – Guardians Inferno
Tracklist Guardians of the Galaxy Vol. 2 (Original Score) [Download – Audio]
Musiche di Tyler Bates.
Showtime a-Holes – 1:28
vs the Abilisk – 2:35
The Mantis Touch – 1:54
Space Chase – 3:21
Family History – 3:49
Groot Expectations – 1:57
Mammalian Bodies – 1:51
Starhawk – 1:49
Two-Time-Galaxy Savers – 4:01
I Know Who You Are – 4:20
Ego – 2:47
Kraglin and Drax – 1:34
The Expansion – 1:05
Mary Poppins and the Rat – 3:08
Gods – 1:28
Dad – 2:28
A Total Hasselhoff – 2:02
Sisters – 2:05
Guardians of the Frickin Galaxy – 1:00