Dal 22 aprile è nei negozi il CD con le 43 canzoni partecipanti all'Eurovision Song Contest 2016, album disponibile anche nel formato digitale, nella versione karaoke e nelle principali piattaforme streaming.
Ci sono state non poche polemiche riguardo la vittoria dell'ucraina Jamala con il brano intitolato 1944, un pezzo chiaramente contro la Russia. Dami Im (Australia) e Sergej Lazarev (Russia) completano il podio del più importante festival canoro continentale, la cui partecipazione della nostra brava Francesca Michielin non è purtroppo stata molto fortunata: come ben saprete, la cantautrice veneta classe 1995, ha ottenuto un mesto sedicesimo posto.
Per la cronaca, questa è la classifica finale:
01. Ucraina, Jamala – 1944
02. Australia, Dami Im – Sound of Silence
03. Russia, Sergej Lazarev – You Are the Only One
04. Bulgaria, Poli Genova – If Love Was a Crime
05. Svezia, Frans – If I Were Sorry
06. Francia, Amir – J'ai cherché
07. Armenia, Iveta Mukuchyan – LoveWave
08. Polonia, Michał Szpak – Color of Your Life
09. Lituania, Donny Montell – I've Been Waiting for This Night
10. Belgio, Laura Tesoro – What's the Pressure
11. Paesi Bassi, Douwe Bob – Slow Down
12. Malta, Ira Losco – Walk on Water
13. Austria, Zoë – Loin d'ici
14. Israele, Hovi Star – Made of Stars
15. Lettonia, Justs – Heartbeat
16. Italia, Francesca Michielin – No Degree of Separation
17. Azerbaigian, Samra – Miracle
18. Serbia, Sanja Vučić ZAA – Goodbye (Shelter)
19. Ungheria, Freddie – Pioneer
20. Georgia, Kocharov & Young Georgian Lolitaz – Midnight Gold
21. Cipro, Minus One – Alter Ego
22. Spagna, Barei – Say Yay!
23. Croazia, Nina Kraljić – Lighthouse
24. Regno Unito, Joe & Jake – You're Not Alone
25. Repubblica Ceca, Gabriela Gunčíková – I Stand
26. Germania, Jamie-Lee Kriewitz – Ghost
Appena dopo la copertina, trovate i titoli delle quarantatré tracce ed un paio di link per ascoltare il disco in streaming gratuito.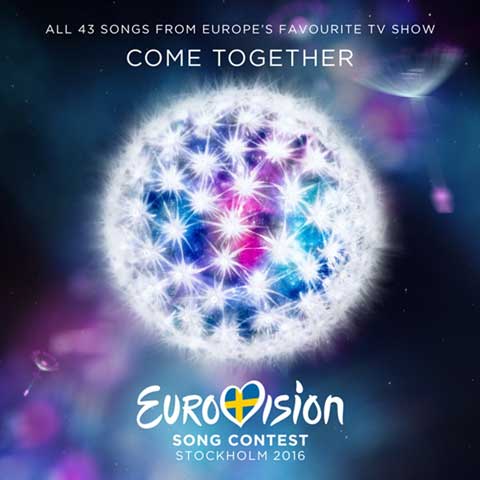 Eurovision Song Contest 2016 – tracklist album (Reperibile su Amazon nelle versioni Audio CD – Download Digitale – Download Versione Karaoke)
Fairytale, Eneda Tarifa (Albania)
LoveWave, Iveta Mukuchyan (Armenia)
Loin D'ici, Zoe (Austria)
Sound of Silence, Dami Im (Australia)
Miracle, Samra (Azerbaijan)
Ljubav Je…, Dalal & Deen (Bosnia & Herzegovina)
What's the pressure, Laura Tesoro (Belgio)
If love was a crime, Poli Genova (Bulgaria)
Help you fly, Ivan (Bielorussia)
The last of our kind, Rykka (Svizzera)
Alter Ego, Minus One (Cipro)
I Stand, Gabriela Guncikova (Repubblica Ceca)
Ghost, Jamie-Lee Kriewitz (Germania)
Soldiers of love, Lighthouse X (Danimarca)
Play, Juri Pootsmann (Estonia)
Say Yay, Barei (Spagna)
Sing it Away, Sandhja (Finlandia)
J'ai Cherché, Amir (Francia)
You're Not Alone, Joe and Jake (Uk)
Midnight Gold, Nika Kocharov and Young Georgian Lolitaz (Georgia)
Utopian Land, Argo (Grecia)
Lighthouse, Nina Kralijic (Croazia)
Pioneer, Freddie (Ungheria)
Sunlight, Nick Byrne (Irlanda)
Made of Stars, Hovi Star (Israele)
Hear Them Calling, Greta Salome (Islanda)
No Degree of Separation, Francesca Michielin (Italia)
I've been waiting for this night, Donny Montell (Lituania)
Heartbeat, Justs (Lettonia)
Falling Stars, Lidia Isac (Moldavia)
The Real Thing, Highway (Montenegro)
Dona, Kaliopi (Macedonia)
Walk On Water, Ira Losco (Malta)
Slow Down, Douwe Bob (Paesi Bassi)
Icebreaker, Agnete (Norvegia)
Color of your life, Michael Szpak (Polonia)
Moment of silence, Ovidiu Anton (Romania)
Goodbye (Shelter), ZAA Sanja Vucic
You Are the Only One, Sergey Lazarev (Russia)
If i Were Sorry, Frans (Svezia)
Blue and Red, Manuella (Slovenia)
I Didn't Know, Serhat (San Marino)
1944, Jamala (Ucraina)
Audio: previa iscrizione su Spotify e Deezer, è possibile ascoltare l'intero album dell'Eurovision Song Contest 2016 che si è svolto a Stoccolma.