Il 10 marzo è uscita la compilation EGO in Miami selected by Joshi Mami (Winter Music Conference 2015 Edition): ascoltate l'album in streaming gratuito.
Questa nuova raccolta della label specializzata in musica dance, propone un totale di 35 canzoni, tra le quali è anche presente la hit Void di Fritz Kalkbrenner remixata dall'italianissimo Spada. E' suo un ulteriore nuovo pezzo strumentale intitolato Sun Sun sun, per la prima volta inserito in un disco. Nell'opera sono presenti brani di Disciples, Oliver Heldens, Clean Bandit & Jess Glynne Tough Love Remix, Philip George, Michael Calfan, Sandy Rivera, Blonde, Franky Rizardo, Code3000, Joshi Mami e molti altri.
In EGO in Miami, la compilation della primavera 2015 sempre più vicina, sono racchiusi brani con i suoni più raffinati ed atmosfere club: un mix perfetto per portare il "real Miami spirit" ovunque e in qualunque momento.
Appena dopo l'immagine relativa alla copertina, potete leggere i titoli delle canzoni ed ascoltarle in streaming gratuito.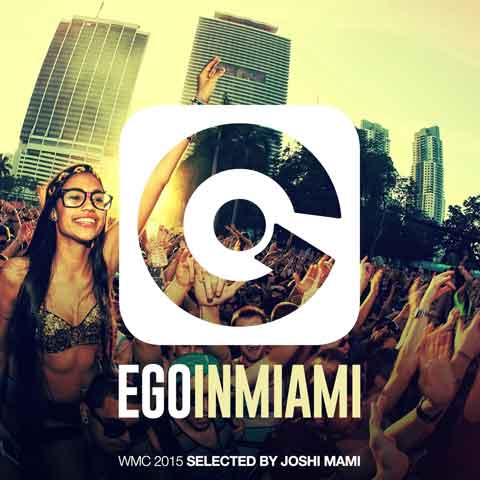 Tracklist EGO in Miami selected by Joshi Mami (Winter Music Conference 2015 Edition) – Disponibile su Amazon
I Loved You [Tube & Berger Remix] Blonde feat. Melissa Steel 6:20
I Need Your Love (Radio Mix) Joshi Mami 3:00
Enzyme (Radio Edit) Franky Rizardo 3:19
Do You Feel the Same? (Purple Disco Machine Remix) Hercules & Love Affair 6:50
Real Love – Clean Bandit & Jess Glynne (Tough Love Remix) 5:38
Dancing From My Window (Teenage Mutants & Lars Moston Rmx) Psychodelico 6:33
They Don't Know (Alexis Raphael Remix) Disciples 5:13
I Keep Dancing (Dino Da Cassino Mix) Mad8 6:42
The Tide – Wild Culture 5:52
I Can't Stop (Franky Rizardo Remix) Sandy Rivera 6:32
Yoohoo – Dusky 6:03
The Peacemaker – Veerus & Maxie Devine 7:58
To the Rhythm (Radio Edit) Marc Vedo 3:09
Everybody Get Up – Code3000 6:00
Gotta Get Thru This 2015 – DBN & Jordan Ferrer feat. Oni Sky 5:10
Don't (Don Diablo Remix) Ed Sheeran 4:09
Love the Noise (The Voyagers Radio Edit) Phantafox 3:35
Wings of the Dawn (Prem Kavita) [Radio Edit] Moogers 3:20
Memory (Radio Edit) Delcroix & Delatour 3:05
Continuos Mix (Bonus Track Mixed) Artisti Vari 1:22
Streaming audio canzoni EGO in Miami selected by Joshi Mami: cliccate sull'apposito link per ascoltare su Spotify (previa registrazione gratuita), le venticinque tracce presenti nell'album-compilation.