Go With Your Heart è il nuovo singolo dance di DJ Antoine e Mad Mark su X-Energy, con la collaborazione di Temara Melek e Euro.
Pubblicato lo scorso 22 settembre, questo brano entrerà in rotazione radiofonica in Italia a partire dal prossimo 10 ottobre.
Dopo aver ascoltato Light It Up, è il momento di questa nuova potenziale hit del dj e producer svizzero Antoine Konrad in arte Dj Antoine, quello dei multiplatino "Welcome To St. Tropez", "Ma Chérie" e "Bella Vita" per intenderci.
Go With Your Heart è estratto da We Are The Party, ottavo album in studio pubblicato a fine agosto 2014, ed ai primi posti delle classifiche in Svizzera, Germania ed Austria.
La canzone vede la partecipazione di Euro e di Temara Melek, bella cantante californiana ancora semi-sconosciuta ai più.
Di seguito potete leggere le parole in inglese che compongono questo pezzo, decisamente radio friendly ed orecchiabile. Cliccando sull'immagine, accedete al lyric video.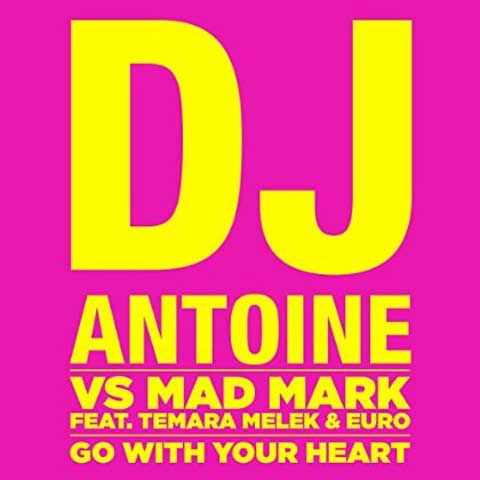 Testo Go With Your Heart – DJ Antoine vs Mad Mark feat. Temara Melek & Euro (Digital Download)
Let's go out
Turn it up and roll the windows down
Yeah we like our music
So damn loud
We'll be shaking the ground
Are you feeling it now, now, now
All my people where you at
All my people where you at
Where you at
Where you at
Moving up the speed of light
Shooting stars across the sky
Yeah you only get one life
You've gotta go with your heart
Go with your heart tonight
Praise them up
To the celing we gonna rock this club
Baby believe it
When you party with us
You'll be feelin a buzz
You'll be falling in love
Hol' up
I don't wanna
just go falling
and falling
in love
Girl I could hear
ya heart calling
and calling
Pick up
Now they might've did
A lil' partying
But not partying this much
Girl there ain't
stopping this
Ain't no stalling
Now drinks up
Now maybe
they won't
ever feel this feel
Like were' in a dream
but it's real
Even though
We're standing still
We're still…
Moving up the speed of light
Shooting stars across the sky
Yeah you only get one life
You've gotta go with your heart
Go with your heart tonight
Do what you feel like
Just do what feels right
Do what you feel like
Just go with your heart tonight
All my people where you at
Where you at
All my people where you at
Where you at
All my people where you at
Where you at
All my people where you at
Where you at
Moving up the speed of light
Shooting stars across the sky
Yeah you only get one life
You've gotta go with your heart
Go with your heart tonight
Do what you feel like
Just do what feels right
Do what you feel like
Just go with your heart tonight