In data 9 dicembre 2014 è uscito Bastille Vs. Other People's Heartache Pt. III, nuovo mixtape della band indie rock britannica formata da Dan Smith, Kyle Simmons, Will Farquarson e Chris 'Woody' Wood.
L'opera è composta da nove tracce, tra le quali spiccano "Torn Apart Vs. Grades", "Weapon vs. Angel Haze vs. F*U*G*Z vs. Braque" e "Bite Down Vs. Haim", tutti pezzi rilasciati nel canale Youtube del gruppo.
Tutte le canzoni presenti, sono state registrate con la collaborazione di artisti di fama internazionale come gli Skunk Anansie, oltre le citate Haim, ed artisti meno conosciuti come Grades, Lizzo all'anagrafe Melissa Jefferson (cantante alternative Hip Hop di Detroit), The Tyde (indie rock band americana), Rationale, Mnek all'anagrafe Uzo Emenike (cantautore e produttore discografico londinese di origini nigeriane) e The Gemma Sharples Quartet.
Dopo la copertina frontale del CD, potete leggere i titoli di tutte le canzoni proposte in questa nuova uscita discografica.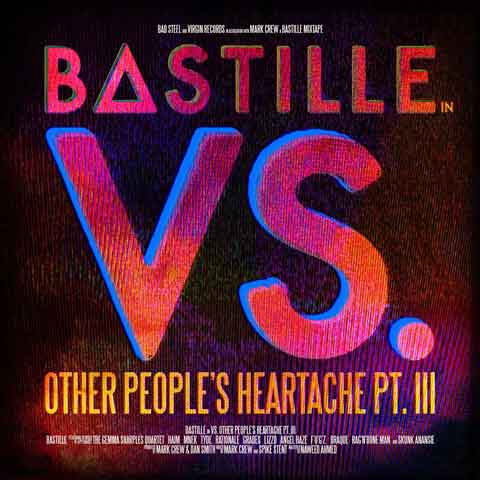 Tracklist Bastille Vs. Other People's Heartache Pt. III (Disponibile su Amazon nei formati Audio CD e Digital Download)
Fall Into Your Arms (Bastille Vs. The Gemma Sharples Quartet) 1:48
Bad_News (Bastille Vs. Mnek) 4:47
The Driver 4:21
Axe To Grind (Bastille Vs. Tyde Vs. Rationale) 4:47
Torn Apart, Pt. II (Bastille Vs. Grades Vs. Lizzo) 1:01
Remains (Bastille Vs. Rag N Bone Man Vs. Skunk Anansie) 4:38