This Is Not The Album è un disco-mixtape gratuito del giovane cantante statunitense Austin Mahone, da poche ore disponibile in free download, esattamente dal 17 dicembre 2015.
Il progetto che la popstar classe 1996 ha deciso di regalare ai numerosissimi fans sparsi nel mondo, contiene 19 canzoni e molte interessanti collaborazioni con artisti del calibro di Chris Brown, Sage The Gemini, Kylie Minogue, Becky G (l'ex fidanzata) T-Pain ed artisti meno conosciuti.
In attesa del primo album ufficiale, che farà seguito agli EP The Secret (2014) e Extended Play (2013), Mahone ha deciso di regalare per Natale ai supporters quest'interessante mixtape, le cui tracce sono ascoltabili gratuitamente anche su Youtube, in maniera tale che, prima di scaricarlo, i fans possano capire se è o meno di loro gradimento.
Appena dopo la copertina, trovate la tracklist ed il link per lo streaming gratuito dell'opera.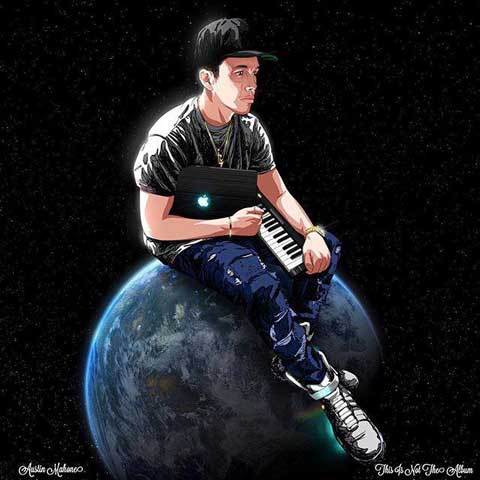 Tracklist This Is Not The Album – Austin Mahone (Download Gratis)
Put It On Me feat. Sage The Gemini
Same Girl feat. Palin and Myles
Bran New
Do It Right feat. Rob Villa
Rollin feat. Becky G
On Your Way feat. KYLE
Caught Up
Something So Real
Love You Anyways feat. Rob Villa
Red Lights feat. Chris Brown
What It Do
Deep End
Hate To Let You Go
Apology
Who's Gonna Love You Now
Hold It Against Me
If I Ain't Got You feat. Kyle Dion and Jessica Sanchez
Not Far
Dirty Work (Remix) feat. T-Pain
Audio in streaming This Is Not The Album: Cliccando sul link a sinistra, potete ascoltare le diciannove tracce che compongono il free album di Mahone.