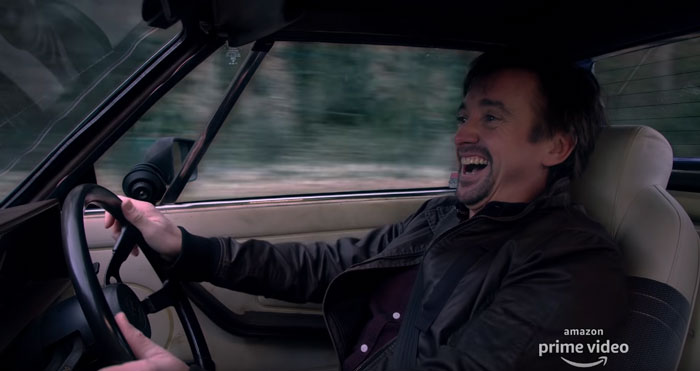 Da gennaio 2019 viene trasmesso uno spot che ha lo scopo di pubblicizzare il servizio Amazon Prime Video e la terza stagione dell'originale serie televisiva automobilistica britannica The Grand Tour, esclusiva del servizio on demand Amazon Video.
La canzone utilizzata nella pubblicità promo e nel trailer, anche in altre lingue, è sempre la stessa ed è molto carina oltre che famosa, anche se non proprio recente. Qual è il titolo?
With a Little Help from My Friends ed è un pezzo scritto da John Lennon e Paul McCartney, incluso nell'album dei Beatles "Sgt. Pepper's Lonely Hearts Club Band" pubblicato nel 1967. Il brano fu scritto appositamente per il batterista della band Ringo Starr, che lo cantò sul disco interpretando il personaggio di "Billy Shears". La rivista Rolling Stone, ha inserito With a Little Help from My Friends in 304esima posizione nella lista delle 500 migliori canzoni di tutti i tempi.
Sono state veramente molte le re-interpretazioni di questo pezzo, che hanno fatto bene anche a livello commerciale e tra queste, la cover di Joe Cocker del 1968, che è poi la versione utilizzata nella promo delle serie tv, quella dei Wet Wet Wet nel 1988 e quella di Sam and Mark nel 2004. La fortunata cover di Cocker, uno dei pezzi più celebri dell'artista britannico scomparso nel 2004, è un radicale ri-arrangiamento della traccia in stile rhythm'n'blues. Il brano fu inserito nella tracklist primo album in carriera e omonimo, pubblicato il 23 aprile 1969.
---
Testo With a Little Help from my Friends
Audio: Spotify – Deezer – Youtube
[Assolo di chitarra di Jimmy Page]
[Verse 1]
What would you do if I sang out of tune?
Would you stand up and walk out on me?
Lend me your ears and I'll sing you a song
I will try not to sing out of key
[Chorus 1]
Oh, baby I get by (Ah, with a little help from my friends)
All I need is my buddies (Ah, with a little help from my friends)
I say I'm gonna get high (Ah, with a little help from my friends)
Oh yeah (Oooooh)
[Verse 2]
What do I do when my love is away?
(Does it worry you to be alone?)
No, no
How do I feel at the end of the day?
(Are you sad because you're on your own?)
I tell ya I don't get sad no more
[Chorus 2]
(Ah, with a little help from my friends)
Gonna get by with my friends (Ah, with a little help from my friends)
Yeah yeah, I'm gonna try (Ah, with a little help from my friends)
Keep on getting high, oh Lord (Oooooh)
[Hook 1]
(Do you need anybody?)
I need someone to love
(Could it be anybody?)
All I need is someone
That's just where I'm going, yeah
Somebody knows that's where I'm showing
Baby
[Chorus 3]
(Ah, with a little help from my friends)
Said I'm gonna make it with my friends (Ah, with a little help from my friends)
Oh, I'm gonna keep on trying (Ah, with a little help from my friends)
I'm gonna keep on trying (Ooooh)
[Verse 3]
(Would you believe in a love at first sight?)
I'm certain it happens all the time, yeah
(What do you see when you turn out the light?)
I can't tell you but it sure feels like mine
[Chorus]
(Ah, with a little help from my friends)
Don't you know I'm gonna make it with my friends? (Ah, with a little help from my friends)
I promised myself I'd get by (Ah, with a little help from my friends)
I said I'm gonna try and not work too hard (Oooh)
[Hook 2]
(Do you need anybody?)
Woah, yeah yeah yeah
(Could it be anybody?)
Oh, there's gotta be somebody
(?) somebody (?)
Oh, yeah, yeah
[Chorus 4]
(Ah, with a little help from my friends)
Said I'm gonna get by with my friends, yeah (Ah, with a little help from my friends)
Oh, yes I'm gonna keep trying, now (Ah, with a little help from my friends)
Keep on trying with my friends (Ah, with a little help from my friends)
Oh, I'm never gonna stop there, oh (Ah, with a little help from my friends)
I'm gonna keep on trying, yeah yeah (Ah, with a little help from my friends)
I'm getting high, I'm gonna try, oh Lord (Ooh)
Gonna get by with my friends
I'm gonna get on by, yes I'm gonna get on by, my Lord
I'm gonna tell them all about it, I'm gonna tell them all, yeah yeah