Never Been Better è il secondo singolo di Olly Murs, secondo estratto dal quarto album in studio omonimo, che vedrà la luce il prossimo 25 novembre. L'opera arriva a due anni esatti di distanza dall'ultima fatica Right Place, Right Time.
Non è iniziata nel migliore dei modi la quarta era discografica del cantautore e musicista inglese, visto che il primo singolo Wrapped Up feat. Travie McCoy, è riuscito ad entrare in classifica solamente in Australia, raggiungendo la quindicesima piazza, risultati distanti anni luce dai precedenti successi di questo cantante, che soprattutto con la sua Troublemaker conquistò il mondo. Chissà se le cose cambieranno, visto che tra un paio di giorni sarà rilasciata la clip del primo pezzo estratto dal nuovo lavoro.
Nonostante la delusione Murs tira comunque avanti per la sua strada, e rilascia il video che accompagna la title track del nuovo lavoro, che sarà formato da tredici tracce. Ecco la tracklist di Never Been Better: "Did You Miss Me", "Wrapped Up", "Beautiful to Me", "Up" (ft. Demi Lovato), "Seasons", "Nothing Without You", "Never Been Better", "Hope You Got What You Came For", "Why Do I Love You", "Stick With Me", "Can't Say No", "Tomorrow", "Let Me In". Nell'edizione deluxe ci saranno i seguenti 4 brani bonus "We Still Love", "Us Against the World", "Ready for Love" e "History".
Il brano Never Been Better è un'energica up tempo power pop, che sorto certi aspetti ricorda "Army of Two", il secondo singolo estratto dal precedente lavoro di Murs.
Come detto, da poche ore è possibile vedere il video ufficiale di questa canzone. Il filmato mostra semplicemente un'esibizione del cantautore e la sua band. Potete vederlo cliccando sull'immagine sottostante dopo la quale trovate le parole in inglese che compongono l'inedito.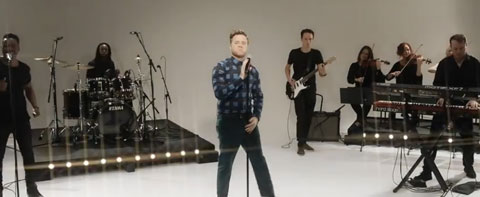 Testo Never Been Better – Olly Murs (Digital Download)
[Verse 1]
Burning from the sky
There's no gravity
Hunger in my eyes
Ain't no stopping me
Can't bring me down
I guess it goes around
Hot over my head
Back against the wall
I'm 100% and not afraid to fall
I risk it all
When it comes to call
[Pre-Chorus]
Tell me now did I get your attention?
Did you get the answer to your question?
[Chorus]
Everybody cries
But not toady, not today
Cause I won't let ya
Everybody dies
But not today, not me
Cause I've never been better
[Verse 2]
I'm still on my feet
The world can't knock me down
Cause I won't take defeat
I'm still chasing the crowd
But I'm still around
Look who's winning now
[Pre-Chorus] + [Chorus]
[Verse 3]
I'm never giving up
No such thing as enough
I keep on winning
Just beginning to get all that I want
Nothing can hold me back
Cause I'm not made for that
I'm always good but I've been better lately
[Chorus] (x2)