E' disponibile il live video che accompagna Beautiful to Me, un nuovo singolo promozionale del cantautore e musicista inglese Olly Murs, incluso nel nuovo progetto discografico Never Been Better, il quarto in carriera, che vedrà la luce il prossimo 25 novembre. L'opera è già preordinabile nel CD standard, CD deluxe e download digitale deluxe. Ecco i titoli delle 17 tracce che la compongono: "Did You Miss Me", "Wrapped Up" (featuring Travie McCoy), "Beautiful to Me", "Up" (featuring Demi Lovato), "Seasons", "Nothing Without You", "Never Been Better", "Hope You Got What You Came For", "Why Do I Love You", "Stick With Me", "Can't Say No", "Tomorrow", "Let Me In", "We Still Love" (solo nella deluxe edition), "Us Against the World" (deluxe), "Ready for Love" (deluxe), "History" (deluxe).
Dopo il primo vero singolo Wrapped Up, l'artista rilascia nel suo canale Youtube il terzo live video. Il filmato di Beautiful to Me, fa infatti seguito al precedente Tomorrow uscito il 2 novembre scorso e Never Been Better disponibile dal 26 ottobre.
In questi giorni Murs sta mostrando vari aspetti del nuovo lavoro: si va dalla title track pop Never Been Better, al lento e malinconico Tomorrow, a questa traccia, la terza del progetto, una ballata romantica di contraddistinta dall'ottimista sound in grado di infondere felicità, con l'interpretazione molto matura di questo ragazzo, che ha una voce davvero spettacolare.
Siete curiosi di vedere il video ufficiale? Potete farlo cliccando sull'immagine dopo la quale, trovate le parole che compongono questa nuova canzone. La clip è anche visionabile da quì ad inizio articolo. Edit: qui il nuovo video ufficiale.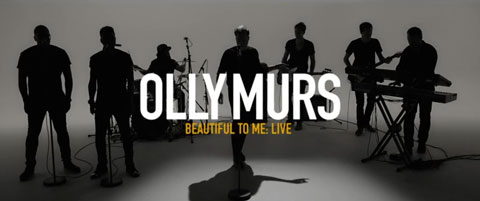 Testo Beautiful to Me – Olly Murs (Digital Download)
She, ties her hair up tight
puts her armour on
when she steps outside
she, lives in black and white
and the colours gone,
but its in her eyes
time and time again we're going back to the start
and i try and try again to bring some light to the dark
i know everyday's a battle and it tears her apart
and i don't know why
and I'm picking up the pieces when they fall to her feet
she's been fighting all the demons so she'll never be free
she's been hiding in the shadows yeah its hard to believe,
but i don't know why
love, don't ever change the way you are,
you light the sky just like a star
i don't care what you say you're
beautiful to me, oh
she, she never gets it right
and it feels like rain on a perfect night
and i'll, i'll be a hand to hold
you can push me hard, but i won't let go
cos time and time again we're going back to the start
and i try and try again to bring some light to the dark
you know everyday's a battle and it tears her apart
but, don't you cry my
love, don't ever change the way you are,
you light the sky just like a star,
i don't care what you say you're
beautiful to me
love, open your arms and let it go,
you're so amazing don't you know,
i don't care what you say you're
beautiful to me, oh
light breaks through your hair and
they all stop and stare and
i'd go anywhere oh why can't you just see that
i'm crazy about you
i can't live without you
you don't see it but you're
beautiful to me
love, don't ever change the way you are
you light the sky just like a star
i don't care what you say you're
beautiful to me, oh
love, don't ever change the way you are
you light the sky just like a star
i don't care what you say you're
beautiful to me
love, open your arms and let it go
you're so amazing don't you know
i don't care what you say you're
beautiful to me
you're beautiful to me
Read more: Olly Murs – Beautiful To Me Lyrics | MetroLyrics