I Won't Let You Down è il titolo del nuovo singolo degli Ok Go, secondo estratto dal nuovo album Hungry Ghosts pubblicato a metà ottobre 2014.
Dopo The Writing's On the Wall, arriva il secondo tassello della quarta era discografica della rock band statunitense, incluso anche nella colonna sonora di Step Up All In, nella versione Shockbit Remix.
Nei loro creativi videoclip, il gruppo ha veramente mostrato di tutto: si va dai cani ballanti, alla danza sui tapis roulant, senza dimenticare la complessa macchina suonante.
Il video ufficiale che accompagna il singolo I Won't Let You Down prodotto da Tony Hoffer, forse li batte tutti. Nelle immagini proposte dal filmato uscito nel canale Youtube della band il 27 ottobre 2014, vediamo i quattro componenti del gruppo di Chicago, muoversi all'interno di uno spazio industriale a Brooklyn, nel quale sono state dipinte una serie di illusioni ottiche. Andando avanti nella visione, i protagonisti vanno all'esterno per eseguire sequenze coreografiche i grande impatto. Presenti tanti ballerini vestiti nelle tradizionali uniformi scolastiche giapponesi, che tengono in mano colorati ombrelli. Davvero un bel video!
Per montare la complessa clip, sono state impiegate circa tre settimane, e 50 take per girarla tutta. Le immagini sono ispirate al testo del brano, che narra il differente modo di vedere le cose di una coppia al momento della rottura di una relazione.
Per vederlo cliccate sull'immagine presente di seguito dopo la quale, trovate il testo in inglese della canzone.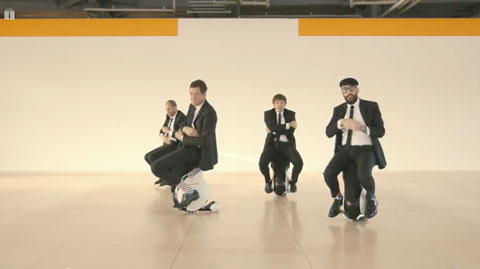 Testo I Won't Let You Down – Ok Go (Digital Download)
I won't let you down
No, I won't let you down
I won't let you down, my love
I won't let you down
No, I won't let you down
I won't let you down, my love
Now Nikki she's got no flag to fly
But she don't seem that much to mind
No, she don't seem to mind
And you, you got your armor on
Lights out in Babylon
Yeah, lights out in Babylon
But maybe all you need is someone to trust
Maybe all you need is someone
Maybe all you need is someone to trust
Maybe all you need is someone
And I won't let you down
No, I won't let you down
I won't let you down, my love
I won't let you down
No, I won't let you down
I won't let you down, my love
No, I won't let you down
(Won't let you down)
Won't let you down
(Won't let you down)
Won't let you down
(Won't let you down)
No, I won't let you down
(Won't let you down)
Won't let you down
(Won't let you down)
Won't let you down
(Won't let you down)
And Emily's got no tricks to try
But she don't seem that much to mind
She don't seem to mind that much to me
You got what the whole world wants
So strap that armor tighter on
Double on down and it's gonna make you free
But maybe all you need is someone to trust
Maybe all you need is someone
Maybe all you need is someone to trust
Maybe all you need is someone
And I won't let you down
No, I won't let you down
I won't let you down, my love
I won't let you down
No, I won't let you down
I won't let you down, my love
No, I won't let you down
(Won't let you down)
Won't let you down
(Won't let you down)
Won't let you down
(Won't let you down)
No, I won't let you down
(Won't let you down)
Won't let you down
(Won't let you down)
Won't let you down
(Won't let you down)
I won't let you down, baby
I won't let you down, baby
I won't let – I won't let you down
I won't let you down
I won't let you down
I won't let – I won't let you down, my love
I won't let you down, my love
I won't let you down
I won't let you-
I won't let you-
I won't let you down
I won't let you down, my love