With You è il nuovo singolo dei Jupiter Project e Jetski Safari con la ft. Helen Corry, che sarà trasmesso dalle emittenti radiofoniche italiane a partire dal prossimo venerdì 21 novembre.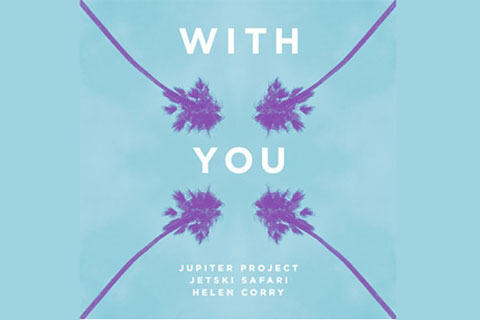 Arriva dalla Nuova Zelanda questo pezzo prodotto dai Jupiter Project insieme a Jetski Safari, che in Europa potrebbe fare molto bene. Per la cronaca i Jetski Safari sono un duo di produttori con base a Aukland (Nuova Zelanda).
I Jupiter Project sono invece un duo indie R&B neozelandese, composto da Marty Rich e Gavin Correia, molto famosi in Nuova Zelanda, dove hanno una certa fama soprattutto come autori di canzoni che hanno raggiunto la top 10. Il duo ha inoltre calcato palchi dei festival più importanti del continente oceanico, e condiviso lo stage con top artisti del calibro di will.i.am e Flume.
La voce che possiamo ascoltare nell'inedito, è invece dell'emergente Helen Corry che riesce a dare un tocco magico al brano, già al primo posto delle classifiche Dance in Nuova Zelanda e per diverse settimane nella Top 10 dei brani più ricercati su Shazam.
Il peso di questo pezzo si sta facendo sentire nelle chart europee: in Belgio, With You è infatti arrivato fino al sesto posto nella classifica generale.
Di With You sono disponibili le versioni Extended Mix, Daniel Richard Remix, Magik J's Deep Mix, Cymbol 303 Remix, Chores Remix, Magik J Dub Mix, Scott Campbell & Shaun Ross Remix, Mikael Wills Remix e strumentale.
Questa canzone è accompagnata dal video ufficiale che potete vedere in apertura articolo, mentre di seguito trovate le parole in inglese che la compongono.
Testo With You – Jupiter Project & Jetski Safari feat. Helen Corry (Digital Download)
[Hook: Jupiter Project]
Is this feeling real?
Cause tonight I want to be with you
Let me know the deal
Cause tonight I want to be with you
Is this feeling real?
Cause tonight I want to be with you
Let me know the deal
Cause tonight I want to be with you
[Verse 1: Helen Corry]
It's on the tip of my tongue
We'll let this game run
It might take a little more than a knock to the door
I don't think I'm the one
I don't think that you'll see this through
It's on the tip of my tongue
We'll let this game run
It might take a little more than a knock to the door
In the name of fun
We'll see if I'm the one for you
[Hook: Jupiter Project]
Is this feeling real?
Cause tonight I want to be with you
Let me know the deal
Cause tonight I want to be with you
Is this feeling real?
Cause tonight I want to be with you
Let me know the deal
Cause tonight I want to be with you
[Verse 2: Helen Corry]
You're on the edge of your seat
There's no need to compete
Cause tonight in this race
There's only one place
And in the game of fun
I'm probably not the one for you
It's on the tip of my tongue
We'll let this game run
It might take a little more than a knock to the door
In the name of fun
I'm probably not the one for you
[Hook: Jupiter Project]
Is this feeling real?
Cause tonight I want to be with you
Let me know the deal
Cause tonight I want to be with you
Is this feeling real?
Cause tonight I want to be with you
Let me know the deal
Cause tonight I want to be with you