Immortals è il nuovo singolo dei Fall Out Boy inciso per la colonna sonora di Big Hero 6, film d'animazione diretto da Don Hall e Chris Williams, che sarà trasmesso nei cinema italiani a partire dal prossimo 18 dicembre.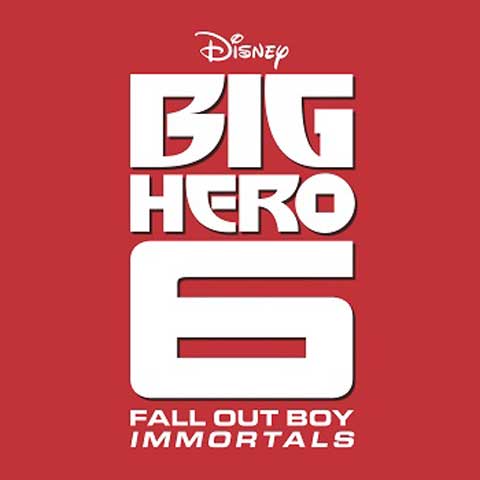 La soundtrack originale della pellicola è formata da 19 tracce-musiche opera del compositore inglese Henry Jackman, ed un brano inedito: Immortals dei Fall Out Boy, la traccia d'apertura dell'album disponibile dal 27 ottobre in download digitale, ma anche nel formato CD import ad edizione limitata. Ecco la tracklist di Big Hero 6 original score soundtrack by Henry Jackman:
Immortals- Fall Out Boy 3:14
Hiro Hamada 1:57
Nerd School 2:12
Microbots 1:46
Tadashi 1:46
Inflatable Friend 1:56
Huggable Detective 1:34
The Masked Man 1:28
One of the Family 1:49
Upgrades 2:26
The Streets of San Fransokyo 4:08
To the Manor Born 1:15
So Much More 3:01
First Flight 2:35
Silent Sparrow 4:39
Family Reunion 2:39
Big Hero 6 6:57
I Am Satisfied with My Care 5:29
Signs of Life 1:14
Reboot 1:48
C'è da aggiungere che nella versione italiana della colonna sonora, sarà incluso l'inedito del rapper Moreno Donadoni battezzato Supereroi in San Fransokyo.
Non è chiaro se la canzone, pubblicata in Italia il 27 ottobre scorso da Walt Disney Records, farà parte del sesto studio album American Beauty/American Psycho, che vedrà la luce la seconda metà del gennaio 2015.
Immortals è un brano scritto dai componenti della rock band di Chicago, Patrick Stump, Pete Wentz, Joe Trohman ed Andy Hurley, mentre la produzione è opera di Butch Walker.
L'inedito è accompagnato da un video musicale rilasciato su Youtube lo scorso 13 ottobre. Nella clip vediamo i quattro membri della band camminare fino al jukebox, inserire la monetina e far partire il nuovo singolo. Il vinile raffigura il volto del personaggio Baymax di Big Hero 6. Il concetto del semplice filmato è simile a quello di X-Kid dei Green Day, la cui protagonista era invece una cassetta.
Per ascoltare Immortals cliccate sull'immagine in basso dopo la quale potete leggere le parole in inglese che compongono l'inedito.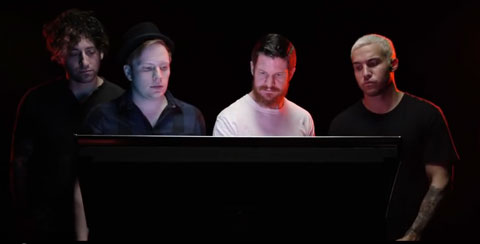 Testo Immortals Fall Out Boy (Digital Download)
They say we are what we are,
But we don't have to be,
I'm bad behavior but I do it in the best way,
I'll be the watcher (watcher) of the eternal flame,
I'll be the guard dog of all your fever dreams,
Oooooooh
I am the sand in the bottom half of the hourglass (glass, glass)
Oooooooh,
I try to picture me without you but I can't
'Cause we could be immortals, immortals
Just not for long, for long,
And live with me forever now,
Pull the blackout curtains down,
Just not for long, for long,
Because we could be immooooooo- immortals,
Immooooooo- immortals,
Immooooooo- immortals,
Immooooooo- immortals,
Sometimes the only pay off for having any faith,
Is when it's tested again and again everyday,
I'm still comparing your past to my future,
It might be your wound but they're my sutures,
Oooooooh
I am the sand in the bottom half of the hourglass (glass, glass)
Oooooooh,
I try to picture me without you but I can't
'Cause we could be immortals, immortals,
Just not for long, for long,
And live with me forever now,
Pull the blackout curtains down,
Just not for long, for long,
We could be immooooooo- immortals,
Immooooooo- immortals,
Immortals,
And live with me forever now,
Pull the blackout curtains down,
we could be immortals, immortals,
Just not for long, for long,
We could be immooooooo- immortals,
Immooooooo- immortals,
Immooooooo- immortals,
Immooooooo- immortals,