Si intitola Mister President il nuovo singolo di Danilo Seclì con la collaborazione dei BoomDaBash, reggae band di origine salentina.
Il brano in questione è estratto dall'album Salento Calls Italy – Over the Rainbow, rilasciato il 3 giugno scorso in CD ed il 30 maggio in digitale. Ecco la tracklist:
Power (Original Mix) Danilo Secli 3:09
C'est Party (Danilo Secli & Marco Santoro Remix) Froggy Mix 4:49
La Vida Loca (Original Mix) Bovino, Danilo Secli, Santoro 4:48
Sono Fuori (Original Mix) Danilo Secli 3:13
Mister President (Original Mix) Danilo Secli 4:13
Attitudine (Danilo Secli Remix) Mad Dopa 3:51
Over the Rainbow (Original Mix) Danilo Secli 5:26
Perfect One (Original Mix) Danilo Secli 4:26
Pull Up (Original Mix) Danilo Secli, Mastro J 4:05
Mister President è accompagnato dal video ufficiale uscito su Youtube il 12 novembre 2014, e dal giorno successivo è stato pubblicato in download digitale in tre versioni: Original Mix, Radio Edit e Andrea Maggino remix.
Il filmato che accompagna questa canzone, è un divertente cartone animato che potete vedere cliccando sull'immagine sottostante dopo la quale trovate le parole che compongono l'inedito, che sta scalando la classifica iTunes. Quì trovate ulteriori informazioni su Danilo Seclì.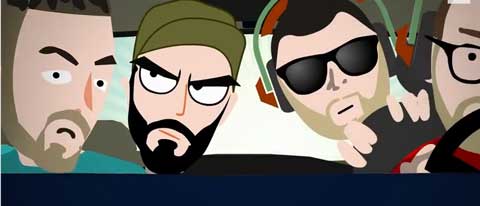 Testo Mister President – Danilo Seclì Ft. BoomDaBash (Digital Download)
I said Believe me mister president
Me kyaan stop singin to the beat of this here champion sound
You really need to understand
Me now go leave the stage because me see the people want some more
Ehy
This a sound of the original champion sound
Salento call italy
Everyting we do we dem follow
You dont know
Everytime we step pon di stage me see seh di people dem crazy
E Yho BoomDabash e Danilo Seclì chiaru
Ausa doe manu se ci stai
Musica fatta cu lu core nu te fare lu spiertu ca nu serve a nienti chiaru
E dinne Bomboklat
Te pienzi spiertu ma quale spiertu
Ti nu si spiertu vo sai ci è ca è chiù spiertu?
Cinca ma piertu e ma dittu certu e none già muertu
Su vivu e moi fatte lu spiertu
fatte lu divu e moi ntorna lu spiertu
Boomdabsh e salento calls italy
te na bai tuertu e prima te avvertu
Pe tie suntu tutti vip
ormai si convintu ca basta nu click
cu fazzu nu beat o nu video clip
te mparu nu modu cu faci le Hit
sicuru nu trei comu fare su Feat
curamu ferite senza lu stick
original bad Man osce cu li sci
e tie ancora anticu mpinni ncora cu lu si