Parliamo della colonna sonora relativa al film The Wolf of Wall Street, pellicola diretta da Martin Scorsese con un cast di tutto rispetto. Nel film vedremo infatti Leonardo Di Caprio (quinta collaborazione tra l'attore ed il regista) nei panni di Jordan Belfort, Jonah Hill che interpreta Donnie Azoff, Matthew McConaughey (Mark Hanna), Jon Favreau (Manny Riskin), Cristin Milioti (Teresa Petrillo), Jon Bernthal (Brad), Rob Reiner (Max Belfort), Kyle Chandler (Patrick Denham), Ethan Suplee (Toby Welch), Shea Whigham (Capitano Ted Beecham), Spike Jonze (Dwayne), Chris Riggi (Broker al party), Jean Dujardin (Jean-Jacques Saurel), Joanna Lumley (Zia Emma), Christine Ebersole (Leah Belfort), Margot Robbie (Naomi Lapaglia), Jake Hoffman (Steve Madden), Martin Klebba (Frank Berry).
Al cinema dal
Quest'attesissimo film, doveva inizialmente essere distribuito nei cinema statunitensi dal 15 novembre 2013, mentre in Italia dal 12 dicembre, tuttavia la Paramount Pictures decise di posticipare l'uscita a data da destinarsi, a causa del mancato accordo con il regista sulla durata della pellicola, che per Scorsese doveva essere intorno ai 180 minuti, troppi secondo la casa cinematografica statunitense. Alla fine ha vinto il regista, visto che il film dura 179 minuti. The Wolf of Wall Street viene quindi trasmesso nelle cinematografiche americane dal 25 dicembre 2013, mentre l'uscita italiana è fissata al 23 gennaio 2014.
Trama
Il film si basa sull'ascesa e il declino di Jordan Belfort (Di Caprio), broker di Wall Street, condannato a 22 mesi di reclusione per frode, corruzione e riciclaggio di denaro. La storia di "Wolf of Wall Street" deriva dal proprio libro di memorie di Belfort, che ricorda la sua ascesa e la caduta.
Trailer in italiano
La colonna Sonora
La soundtrack, propone una compilation di pezzi interpretati da artisti vari come The Lemonheads, Billy Joel, Elmore James ed Eartha Kitt, per un totale di 16 tracce che potete ascoltare a fine articolo. La playlist, include anche 4 brani utilizzati nei trailer, come ad esempio la canzone di Kanye West "Black Skinhead" tratta dal nuovo album Yeezus.
Disponibilità
La colonna sonora, è disponibile nel formato CD dal 18 dicembre, quella digitale sarà invece reperibile dal 13 gennaio 2014.
La copertina
Ecco la cover dell'opera, dopo la quale potete accedere alla lista delle tracce, ed al relativo audio.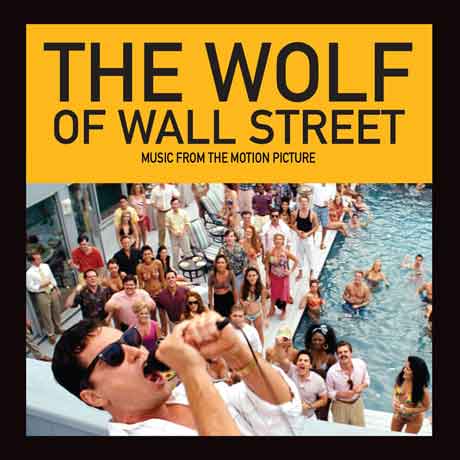 Tracklist colonna sonora film The Wolf of Wall Street (Music From The Motion Picture)
Disponibile su Amazon nel formato CD e digitale (dal 13 gennaio).
Mercy, Mercy, Mercy – Cannonball Adderley
Dust My Broom – Elmore James
Bang! Bang! – Joe Cuba
Movin' Out (Anthony's Song) – Billy Joel
C'est Si Bon – Eartha Kitt
Goldfinger – Sharon Jones and the Dap Kings
Pretty Thing – Bo Diddley
Moonlight In Vermont (Live At The Pershing Lounge/1958) – Ahmad Jamal
Smokestack Lightning – Howlin' Wolf
Hey Leroy, Your Mama's Callin' You – The Jimmy Castor Bunch
Double Dutch – Malcolm McLaren
Never Say Never – Romeo Void
Meth Lab Zoso Sticker – 7Horse
Road Runner – Bo Diddley
Mrs. Robinson – The Lemonheads
Cast Your Fate To The Wind – Allen Toussaint
Audio della colonna sonora – Playlist
Tutte le canzoni di The Wolf of Wall Street (fonte)
"Stratton Oakmont" -Composed by Theodore Shapiro
"Dust My Broom" – Elmore James
"Informercial" – Composed by Theodore Shapiro
"Score from Lifestyles of the Rich and Famous" – Composed by Michael Karp
"Exotic Vacations" – Composed by Theodore Shapiro
"Dust My Blues" – Elmore James
"Spoonful" – Howlin' Wolf
"Mercy, Mercy, Mercy" – Cannonball Adderley
"Hit Me with Your Rhythm Stick" – Ian Dury
"Bang! Bang!" – Joe Cuba
"Tear It Down" – Clyde McCoy
"Movin' Out (Anthony's Song)" – Billy Joel
"Surrey with the Fringe on Top" – Ahmad Jamal Trio
"Road Runner" – Bo Diddley
"Stars and Stripes Forever" – Arranged by William D. Revelli
"Smokestack Lightning" – Howlin' Wolf
"Double Dutch" – Malcolm McLaren
"Cloudburst" – Lambert, Hendricks & Ross
"Insane in the Brain" – Cypress Hill
"King Arthur, Act 3: What Power Art Thou" – Performed by The Monteverdi Choir
"Steve Madden 'Chick Walker' Commercial" – Composed by Human
"Never Say Never" – Romeo Void
"There Is No Greater Love" – Ahmad Jamal Trio
"Boom Boom" – John Lee Hooker
"C'est Si Bon" – Eartha Kitt
"Give Me Luv" – Alcatraz
"Uncontrollable Urge" – Devo
"Moonlight in Vermont" – Ahmad Jamal Trio
"Pretty Thing" – Bo Diddley
"In the Bush" – Musique
"Can't Help Falling in Love" – Written by Luigi Creatore, Hugo Peretti and George Weiss
"Goldfinger" – Sharon Jones & The DAP-Kings
"Baby Got Back" – Sir Mix-A-Lot
"Everlong" – Foo Fighters
"The Oompa Loompa Song" – Written by Leslie Bricusse and Anthony Newley
"Hey Leroy, Your Mama's Callin' You" – Jimmy Castor
"Sloop John B" – Me First and the Gimme Gimmes
"Boom Boom Boom" – The Outhere Brothers
"I Need You Baby (Mona)" – Bo Diddley
"Meth Lab Zoso Sticker" – 7Horse
"Flying High (from Family Matters)" – Composed by Bennett Salvay and Jesse Frederick
"I'm Popeye the Sailor Man (from Popeye Meets Hercules)"- Written by Sammy Lerner
"Get Us Down (from Family Matters)" – Composed by Bennett Salvay and Jesse Frederick
"I Don't Want to Walk Without You (from Popeye Meets Hercules)" – Written by Frank Loesser and Jule Styne
"Dream Lover (from Popeye Meets Hercules)" – Written by Clifford Grey and Victor Schertzinger
"Score from Popeye Meets Hercules" – Composed by Winston Sharples
"One Step Beyond" – Inspecter 7
"Hip Hop Hooray" – Naughty by Nature
"Wednesday Night Prayer Meeting" – Charles Mingus
"Gloria" – Umberto Tozzi
"Ca Plane Pour Moi" – Plastic Bertrand
"Cast Your Fate to the Wind" – Allen Touissant
"Mrs. Robinson" – The Lemonheads
"The Money Chant" – Performed by Robbie Robertson featuring Matthew McConaughey