Si intitola She Knows Me il nuovo singolo del cantautore e musicista canadese Bryan Adams, che anticipa il rilascio di Tracks Of My Years, undicesimo studio album che sarà pubblicato negli Stati Uniti e Canada il 30 settembre, mentre in Italia vedrà la luce il prossimo 7 ottobre.
Si tratta di un disco formato da undici tracce, delle quali dieci sono cover. L'unico brano inedito è proprio She Knows Me, pezzo scritto dallo stesso Adams con la collaborazione del cantautore canadese nonché storico collaboratore  Jim Vallance.
L'opera farà seguito a "11" uscito nel 2008, e conterrà  cover di grandi classici degli anni '50, '60 e '70, più altre 5 tracce disponibili nella sola edizione deluxe. Tra le canzoni presenti, cito "Any Time At All" dei Beatles, "I Can't Stop Loving You" di Ray Charles e "Lay Lady Lay" di Bob Dylan. Ecco la tracklist completa (tra parentesi gli autori):
1. "Any Time At All" (Lennon-McCartney) 2:34
2. "She Knows Me" (Bryan Adams, Jim Vallance) 3:37
3. "I Can't Stop Loving You" (Don Gibson) 3:39
4. "Kiss and Say Goodbye" (Winfred Lovett) 3:10
5. "Lay Lady Lay" (Bob Dylan) 3:34
6. "Rock and Roll Music" (Chuck Berry) 2:34
7. "Down on the Corner" (John Fogerty) 2:39
8. "Never My Love" (Don Addrisi, Dick Addrisi) 3:17
9. "Sunny" (Bobby Hebb) 3:31
10. "The Tracks of My Tears" (Robinson, Moore, Tarplin) 2:56
11. "God Only Knows" (Brian Wilson, Tony Asher) 3:30
Deluxe Edition Bonus Tracks
12. "You've Been a Friend to Me" (Adams) 2:50 (pezzo del 2009 facente parte della colonna sonora del film Old Dogs, con John Travolta e Robin Williams)
13. "Many Rivers to Cross" (Jimmy Cliff)
14. "C'mon Everybody" (Eddie Cochran, Jerry Capehart)
15. "Help Me Make It Through the Night" (Kris Kristofferson)
16. "You Shook Me" (Willie Dixon, J.B. Lenoir)
Il singolo She Knows Me, è stato pubblicato in data 27 agosto 2014, e sarà trasmesso dalle emittenti radiofoniche italiane a partire dal prossimo venerdì 12 settembre.
Siete curiosi di ascoltare l'unico inedito del nuovo lavoro? L'audio è disponibile appena dopo l'immagine relativa alla copertina, insieme alle parole in inglese.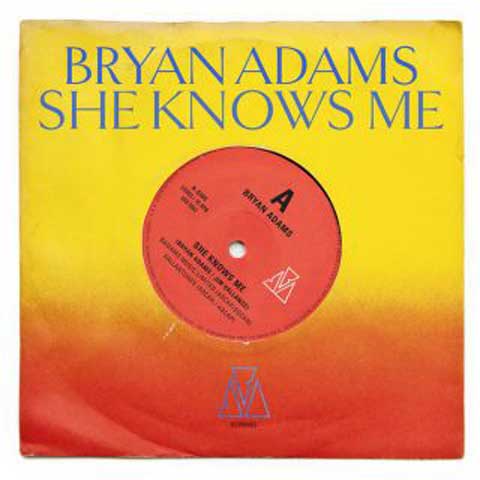 Nella pagina Facebook di Bryan Adams, è stato caricato lo scorso 26 agosto, il lyric video che potete vedere cliccando sull'apposito collegamento.
Guarda il lyric video su Youtube
Testo She Knows Me – Bryan Adams (Download Digitale)
Winds will come and winds will go
And the seasons always change
But the light that shimmers in her eyes
Stays the same
Yeah, the sun will shine and the moon will glow
And the world will always turn
There's a constant fire inside of her
That always burns
She knows me
Every corner of my soul
She knows me
The way I come, the way I go
She told me
There's nothin' I can show
That she don't know about me
Round and round and round we go
Neither here or neither there
All I know, without her in my life
I'd be nowhere
Well, feelings come and feelings go
But some things never change
Like the light that shimmers in her eyes
It stays the same
Oh, she knows me
When I'm wrong or when I'm right
She knows me
In the middle of the night
She holds me
And I don't say a word
Cuz words could never save me
She's got a permanent hold on my heart
And I'm learning to live with the loneliness
When we're apart
Every little way
She knows me
When there's nothin' left to say
She holds me
And time just flies away
Cuz bein' with her is so easy
Oh, she knows me
Better than I know myself…