Believer è il primo singolo degli American Authors, estratto dal debut album in studio Oh, What a Life, pubblicato in Italia lo scorso 6 maggio. Il brano era precedentemente contenuto nell'EP di debutto intitolato American Authors, rilasciato il 27 agosto 2013. Il primo vero disco del gruppo, è disponibile nel classico CD ed in download digitale, ed è formato dalle seguenti undici tracce:
1. "Believer" 3:03
2. "Think About It" 3:04
3. "Best Day of My Life" 3:14
4. "Luck" 3:40
5. "Trouble" 3:15
6. "Hit It" 3:27
7. "Home" 4:09
8. "Love" 3:18
9. "Heart of Stone" 3:07
10. "Ghost" 2:55
11. "Oh, What a Life" 3:41
Dopo il grandissimo successo conseguito con la hit Best day of my life, la rock band newyorkese attiva dal 2006, torna nell'airplay radiofonico nazionale con questa canzone decisamente orecchiabile.
Il singolo di Zac Barnett, James Adam Shelley, Dave Rublin e Matt Sanchez, è entrato infatti in rotazione radiofonica in Italia dal 31 ottobre 2014.
La canzone battezzata Believer, è stata scritta da Aaron Accetta, Zachary Barnett, Shep Goodman, David Rublin, Matthew Sanchez e James Shelley, mentre la produzione è opera di Aaron Accetta e Shep Goodman.
Questo pezzo stato originariamente rilasciato il 19 marzo 2013, come singolo di debutto della band per poi essere incluso nel loro album d'esordio Oh, What a Life.
In apertura articolo, potete vedere il video ufficiale che accompagna il brano. Dopo l'immagine sottostante è presente il testo in inglese che lo compone.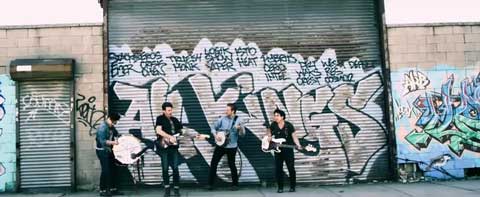 Testo Believer – American Authors (Digital Download)
I'm just a believer
That things will get better
Some can take it or leave it
But I don't wanna let it go
[x2]
I'm a little bit sheltered
I'm a little bit scared
I'm a little bit nervous
I'm goin' no where
I'm a little bit jealous
I'm a little bit slow
I'm a little bit hurtful
And I don't wanna let it go
No…
And I don't wanna let it go
I'm a little bit angry
When every one's around
But I get a little lonely
When no one's out
I feel my demons
Misleadin' me
I'm just a believer
That things will get better
Some can take it or leave it
But I don't wanna let it go
[x2]
Maybe when I get older
And I'm in the ground
The weight's off my shoulders
It was bringin' me down
I've never been that lucky
I've never tasted fame
I'm always lookin' for something
But I hate changin'
Time fades
There's no space
As life breaks new ground
I'm just a believer
That things will get better
Some can take it or leave it
But I don't wanna let it go
[x2]
It doesn't matter what is out there
My head is spinning and it won't bail out
It doesn't matter what is out there
Cause time fades
There's no space
As life breaks new ground
I'm just a believer
That things will get better
Some can take it or leave it
But I don't wanna let it go
[x3]