Parliamo della colonna sonora relativa al film Rio 2 – Missione Amazzonia, pellicola d'animazione diretta da Carlos Saldanha,  sequel di Rio del 2011. Il film vuole sensibilizzare, soprattutto gli spettatori più giovani, sul delicato tema della salvaguardia di molte specie di animali dell'Amazzonia a rischio estinzione.
Al cinema dal
Rio 2 sarà distribuito nelle sale cinematografiche statunitensi, anche in versione 3D, a partire dall'11 aprile 2014. In Italia sarà trasmesso una settimana dopo ovvero a partire dal 17 aprile.
Trama
Blu, Jewel e i loro tre bambini vivono tranquillamente nella città di Rio de Janeiro. Un giorno Jewel decide che i suoi figli devono imparare a vivere come i veri uccelli e decide allora che la famiglia deve lasciare Rio per raggiungere l'Amazzonia. Le cose si mettono tuttavia male quando Nigel torna per vendicarsi….
Colonne sonore
Sono 2 i CD contenenti le musiche del film: la Original Motion Picture Soundtrack e la Music From The Motion Picture. Le versione fisiche, usciranno entrambe il 15 aprile 2014 ma sono preordinabili. La Original Motion Picture versione digital download, sarà invece disponibile a partire dall'8 aprile.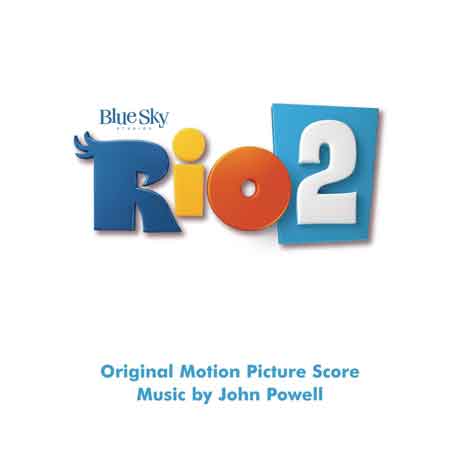 Le musiche originali sono quasi tutte opera del compositore londinese John Powell. Tra i suoi numerosissimi lavori, cito gli ultimi 2 ovvero Rio (2011) e L'era glaciale 4 – Continenti alla deriva del 2012. Di seguito la lista delle 19 tracce.
Tracklist Rio 2 Original Motion Picture Soundtrack (Disponibile su Amazon dal 15 aprile nei formati Audio CD e dall'8 aprile Digital Download)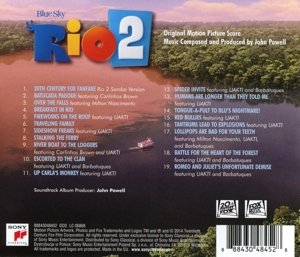 "20th Century Fox Fanfare (Samba Version)" (composta by Alfred Newman) 0:24
"Batucada People" 1:35
"Over the Falls" (

featuring Milton Nascimento

) 3:39
"Breakfast in Rio" 3:08
"Fireworks on the Roof" (

featuring Uakti

) 1:27
"Traveling Family" 1:59
"Sideshow Freaks" (

featuring Uakti

) 3:08
"Stalking the Ferry" 2:06
"River Boat on the Loggers" (

featuring Carlinhos Brown and Uakti

) 2:59
"Escorted to the Clan" (

featuring Uakti and Barbatuques

) 5:40
"Up Carla's Monkey" (

featuring Uakti

) 2:15
"Spider Invite" (

featuring Uakti and Barbatuques

) 2:46
"Humans Are Longer Than They Told Me" (

featuring Uakti

) 2:23
"Tongue-apult to Blu's Nightmare" 2:08
"Red Bullies" (

featuring Uakti

) 3:19
"Tantrums Lead to Explosions" (

featuring Uakti

) 3:42
"Lollipops Are Bad for Your Teeth" (

featuring Milton Nascimento, Uakti e Barbatuques

) 3:55
"Battle for the Heart of the Forest" 4:45
"Romeo and Juliet's Unfortunate Demise" (

featuring Uakti and Barbatuques

) 3:52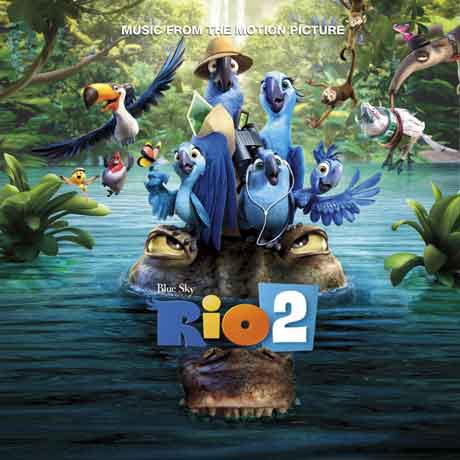 La Music From The Motion Picture è interamente curata da due brasiliani doc, Sergio Mendes e Carlinhos Brown. Tra 1 quattorici brani presenti, citiamo "What is love" di Janelle Monàe, "Welcome back" di Bruno Mars, e "Rio Rio" di Ester Dean ft. B.o.B.
Tracklist Rio 2 Music From The Motion Picture (Disponibile su Amazon dal 15 aprile)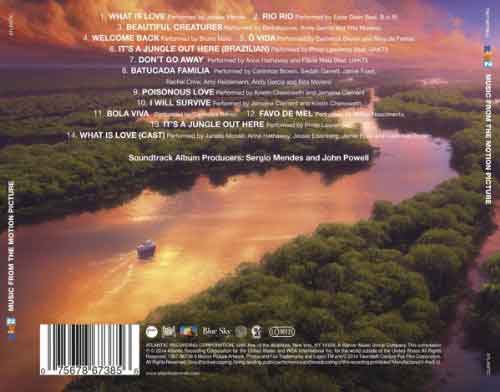 "What Is Love?" Janelle Monáe 3:31
"Rio Rio" (

featuring B.o.B

) Ester Dean 2:41
"Beautiful Creatures" Barbatuques, Andy García, e Rita Moreno 2:07
"Welcome Back" Bruno Mars 1:08
"Ô Vida" Carlinhos Brown e Nina De Freitas 1:47
"It's a Jungle Out Here" (Brazilian) Philip Lawrence 3:59
"Don't Go Away" (featuring Uakti) Anne Hathaway e Flavia Maia 2:38
"Batucada Familia" Carlinhos Brown, Siedah Garrett, Jamie Foxx, Rachel Crow, Amy Heidemann, Andy García, e Rita Moreno 2:42
"Poisonous Love" Kristin Chenoweth e Jemaine Clement 3:30
"I Will Survive" Jemaine Clement e Kristin Chenoweth 1:51
"Bola Viva" Carlinhos Brown 3:22
"Favo De Mel" Milton Nascimento 3:08
"It's a Jungle Out Here" Philip Lawrence 4:00
"What Is Love" Janelle Monáe, Anne Hathaway, Jesse Eisenberg, Jamie Foxx, e Carlinhos Brown 2:43