Mr. Put It Down è il primo singolo di Ricky Martin feat. Pitbull, estratto dal nuovo album in inglese, l'undicesimo da solista, che dovrebbe intitolarsi To Whoever Wants to Listen, disco che non ha ancora una release date ma di prossima uscita.
La nuova canzone è molto carina, orecchiabile e radiofonica e si candida a divenire uno dei tormentoni dell'estate 2015.
Il cantante portoricano Enrique Martín Morales alias Ricky Martin si è affidato ad uno che di hit da classifiche se ne intende proprio: il rapper Pitbull, al quale per l'occasione ha dato tantissimo spazio.
L'inedito è accompagnato dal lyric video ufficiale che potete gustarvi dal suo canale Youtube cliccando sull'immagine in basso.
A seguire, trovate la traduzione in italiano e le parole in lingua inglese.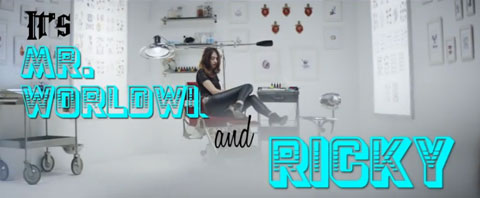 Mr. Put It Down traduzione – Ricky Martin feat. Pitbull (Digital Download – Remixes)
[Pitbull:]
Ora, prima di tutto
Andiamo tesoro toglila
Andiamo tesoro spezzami un pò
Poi mi ha detto di adorare questo dettaglio
Che Pitbull è un cane
E' semplice tesoro, io non sono esigente
L'unica mia regola è niente succhiotti
Ricorda, il desiderio può diventare ingannevole
Siamo Mr. Worldwide e Ricky, dai
[Ricky Martin]
Oh non sto cercando di entrare nella tua testa
E non sto cercando di scacciare i tui limiti
Perché voglio solo farti sentire speciale
Un po 'di divertimento, poco amore, pochi balli
Chi ha una vita intera, tesoro?
Abbiamo la notte proprio ora
Quando vedi a cosa sto pensando
Tu mi chiamerai Mr. mettilo giù
[Pitbull:]
Tesoro dammela, dammela uh
Te lo do, te lo concedo ahh
Tesoro dammela, dammela uh
Te lo do, te lo concedo ahh
Tesoro dammela, dammela uh
Te lo do, te lo concedo ahh
Tesoro dammela, dammela uh
Te lo do, te lo concedo ahh
[Ricky Martin:]
Tesoro sono in grado di riconoscere a chilometri di distanza
Che non vuoi stare da sola
Ma nessuno mi cerca come fai tu
Allora dimmi come farti eccitare
[Ricky Martin]
Oh non sto cercando di entrare nella tua testa
E non sto cercando di scacciare i tui limiti
Perché voglio solo farti sentire speciale
Un po 'di divertimento, poco amore, pochi balli
Chi ha una vita intera, tesoro?
Abbiamo la notte proprio ora
Quando vedi a cosa sto pensando
Tu mi chiamerai Mr. mettilo giù
[Pitbull:]
Tesoro dammela, dammela uh
Te lo do, te lo concedo ahh
Tesoro dammela, dammela uh
Te lo do, te lo concedo ahh
Tesoro dammela, dammela uh
Te lo do, te lo concedo ahh
Tesoro dammela, dammela uh
Te lo do, te lo concedo ahh
[Pitbull:]
E' la P verso la L-L con la T-T alla B-B con la U e doppia L
Sono così eccitato, io sono più rovente dell'inferno
Ora tesoro girati per Mr. mettilo giù
Sono passato dal quartiere allo yacht per il G4
Giù nel D.R., il jet ha fatto una deviazione
Non dal Maryland
Ma quando si tratta sempre di donne possono sempre venirne altre
Possono "essere di più"
Tupac? No, ma troverò il tempo
Tesoro è stato un piacere conoscerti, io sono il signor Mettilo Giù
[Ricky Martin]
Ciao, oh mia
Da dove vieni?
Oh io, so come
Per scegliere quelli giusti
Ho preso la mia ragazza spot
Così, mentre la notte è giovane
Basta che mi seguano
[Ricky Martin]
Chi ha una lunga vita, tesoro?
(Chi ha una lunga vita?)
Abbiamo la notte proprio ora
(Abbiamo la notte proprio ora)
Quando vedi a cosa sto pensando
(A cosa sto pensando)
Tu mi chiamerai Mr. mettilo giù
[Pitbull:]
Tesoro dammela, dammela uh (Mr. mettilo giù)
Te lo do, te lo concedo ahh
Tesoro dammela, dammela uh (Mr. mettilo giù)
Te lo do, te lo concedo ahh
Tesoro dammela, dammela uh (Mr. mettilo giù)
Te lo do, te lo concedo ahh
Tesoro dammela, dammela uh (Mr. mettilo giù)
Te lo do, te lo concedo ahh
Testo Mr. Put It Down
[Pitbull:]
Now first of all
C'mon baby take it off
C'mon baby break me off
Then she said she loves the fact
That Pitbull such a dog
It's simple baby, I ain't picky
Only rule of mine is no hickies
Remember, lust can get tricky
It's Mr. Worldwide and Ricky, dale
[Ricky Martin:]
Oh I'm not tryna get in your head
And I'm not tryna push your limits
Cause I just wanna make you feel special
A little fun, little love, little dancin'
Who has a lifetime, baby?
We got the night right now
When you see what I'm planning
You're gonna call me Mr. Put It Down
[Pitbull:]
Baby gimme that, gimme that uh
I'll give you that, give you that ahh
Baby gimme that, gimme that uh
I'll give you that, give you that ahh
Baby gimme that, gimme that uh
I'll give you that, give you that ahh
Baby gimme that, gimme that uh
I'll give you that, give you that ahh
[Ricky Martin:]
Baby I can recognize from miles away
That you don't wanna be alone
But ain't nobody lookin like you do to me
So tell me how to turn you on
[Ricky Martin:]
Oh I'm not tryna get in your head
And I'm not tryna push your limits
Cause I just wanna make you feel special
A little fun, little love, little dancin'
Who has a lifetime, baby?
We got the night right now
When you see what I'm planning
You're gonna call me Mr. Put It Down
[Pitbull:]
Baby gimme that, gimme that uh
I'll give you that, give you that ahh
Baby gimme that, gimme that uh
I'll give you that, give you that ahh
Baby gimme that, gimme that uh
I'll give you that, give you that ahh
Baby gimme that, gimme that uh
I'll give you that, give you that ahh
[Pitbull:]
It's the P to the I-I to the T-T to the B-B to the U and double the L
I'm so hot, I'm hotter than hell
Now baby turn around for Mr. Put It Down
Went from the block to the yacht to the G4
Down in D.R., jet took a detour
Not from Maryland
But when it always comes to women there can always be more
Get it "be more"
Tupac? No, but I get around
Baby nice to meet ya, I'm Mr. Put It Down
[Ricky Martin:]
Hola, oh my
Where did you come from?
Oh I, know how
To pick the right ones
I got my spot girl
So while the night's young
Just follow me, meee
[Ricky Martin:]
Who has a lifetime, baby?
(Who has a lifetime?)
We got the night right now
(We got the night right now)
When you see what I'm planning
(What I'm planning)
You're gonna call me Mr. Put It Down
[Pitbull:]
Baby gimme that, gimme that uh (Mr. Put It Down)
I'll give you that, give you that ahh
Baby gimme that, gimme that uh (Mr. Put It Down)
I'll give you that, give you that ahh
Baby gimme that, gimme that uh (Mr. Put It Down)
I'll give you that, give you that ahh
Baby gimme that, gimme that uh (Mr. Put It Down)
I'll give you that, give you that