Fort Knox è il secondo singolo di Noel Gallagher e la sua band, estratto dall'album Who Built The Moon?, in uscita a fine novembre.
Pubblicato il 27 ottobre 2017, Fort Knox è anche il primo pezzo della tracklist ed arriva dopo Holy Mountain.
Il brano è stato scritto e prodotto da Gallagher con la collaborazione di David Holmes e possiamo considerarla una traccia psichedelica, magnetica e sognante, quasi esclusivamente strumentale, con un testo poverissimo sparso qua e la.
Fort Knox, il secondo anticipo dell'attesissimo disco, è ispirato a The Power di Kanye West. Ma ecco le sue parole a riguardo:
E' stato l'ultimo brano ad essere completato, l'ultimo giorno negli studi di registrazione e tutto è nato da quel pezzo di Kanye. La cantante Y-See non l'aveva mai sentita e ha iniziato a cantarci sopra e adesso è perfetto.
Per accedere al lyric video cliccate sull'immagine sottostante, dopo la quale potete leggere il testo e la relativa traduzione in italiano.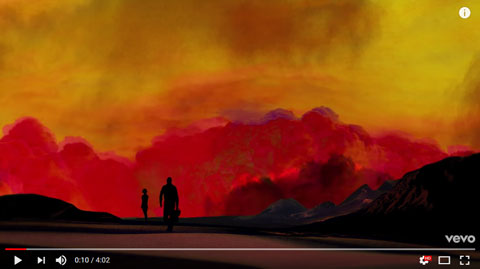 Fort Knox testo – Noel Gallagher's High Flying Birds (Download)
He-e-e-ey, he-e-e-ey
He-e-e-ey, he-e-e-ey
Hey hey
Keep on holding out
Holding on
Hey hey
Keep on holding out
Holding on
He-e-e-ey (Hey hey)
He-e-e-ey
Keep on holding out
Holding on
He-e-e-ey (Hey hey)
He-e-e-ey
Keep on holding out
Holding on
Heeeeeeeeeey
Uhhhhh-ahhh-heeee
Uhhhhhh-uh-uhhh
Hey hey
Uhhhhhh-uh-uhhh
Hey hey
Uhhhhhh-uh-uhhh
Hey hey
Uhhhhhh-uh-uhhh
Hey hey
You gotta get yourself together
You gotta get yourself together
You gotta get yourself together
You gotta get yourself together
You gotta get yourself together
You gotta get yourself together
You gotta get yourself together
You gotta get yourself together
Ahhhhhhhhh-ahhh-ahhh
Keep on holding out
Holding on
Ahhhhhhhhh-ahhh-ahhh
Keep on holding out
Holding on
Uhhhhhh-uh-uhhh
He-e-e-ey (Hey hey)
He-e-e-ey (Uhhhhhh-uh-uhhh)
Keep on holding out (Hey hey)
Holding on
Uhhhhhh-uh-uhhh
He-e-e-ey (Hey hey)
He-e-e-ey (Uhhhhhh-uh-uhhh)
Keep on holding out (Hey hey)
Holding on
Ahhhhhhhhh-ahhh-ahhh
Keep on holding out
Holding on
Ahhhhhhhhh-ahhh-ahhh
Keep on holding out
Holding on
Fort Knox traduzione
He-e-e-ey, he-e-e-ey
He-e-e-ey, he-e-e-ey
Hey hey
Continua a resistere
Tieni duro
Hey hey
Continua a resistere
Tieni duro
He-e-ey (Hey hey)
He-e-e-ey
Continua a resistere
Tieni duro
He-e-ey (Hey hey)
He-e-e-ey
Continua a resistere
Tieni duro
Heeeeeeeeeey
Uhhhhh-ahhh-heeee
Uhhhhhh-uh-uhhh
Hey hey
Uhhhhhh-uh-uhhh
Hey hey
Uhhhhhh-uh-uhhh
Hey hey
Uhhhhhh-uh-uhhh
Hey hey
Devi farti forza
Devi riprenderti
Devi farti forza
Devi riprenderti
Devi farti forza
Devi riprenderti
Devi farti forza
Devi riprenderti
Ahhhhhhhhh-ahhh ahhh
Continua a resistere
Tieni duro
Ahhhhhhhhh-ahhh ahhh-
Continua a resistere
Tieni duro
Uhhhhhh-uh-uhhh
He-e-ey (Hey hey)
E-e-ey (Uhhhhhh-uh-uhhh)
Continua a resistere (Hey hey)
Tieni duro
Uhhhhhh-uh-uhhh
He-e-ey (Hey hey)
He-e-ey (Uhhhhhh-uh-uhhh)
Continua a resistere (Hey hey)
Tieni duro
Ahhhhhhhhh-ahhh ahhh
Continua a resistere
Tieni duro
Ahhhhhhhhh-ahhh ahhh-
Continua a resistere
Tieni duro
Powered by NuoveCanzoni.com