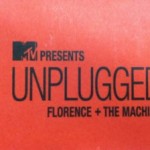 Si intitola Mtv Unplugged il nuovo album dei Florence and The Machine, gruppo musicale inglese.
La data di rilascio del disco live, è fissata al prossimo 9 aprile.
Nell'album, saranno presenti 11 tracce registrate durante il concerto dello scorso dicembre in quel di New York. Tra i brani, vi sarà la cover di "Try a little tenderness" ed un duetto con Josh Homme.
Tracklist album Mtv Unplugged – Florence and The Machine
1. Only If For The Night
2. Drumming Song
3. Cosmic Love
4. Breaking Down
5. Never Let Me Go
6. Try A Little Tenderness
7. No Light, No Light
8. Jackson (feat. Josh Homme)
9. What The Water Gave Me
10. Dog Days Are Over
11. Shake It Out