Stronger è il titolo del nuovo singolo di Marsha Ambrosius con la collaborazione del rapper statunitense Dr. Dre, che ha anticipato il rilascio del secondo studio album Friends & Lovers uscito a metà luglio, opera che ha fatto seguito al disco d'esordio del 2011 Late Nights & Early Mornings.
Dopo Run, la cantautrice britannica ha scelto questo pezzo per promuovere la nuova era discografica, frutto di produzioni e collaborazioni ambiziose tra le quali J.U.S.T.I.C.E. , Charlie Wilson, League, Da Internz, Diplo ed Eric Hudson.
La particolarità di questo disco, è che ognuna delle sedici tracce proposte, sarà accompagnata da un videoclip, ed ognuno di essi conterrà una storia. Si tratta di un vero e proprio sequel del citato debut album.
Il brano Stronger, inizia con un sample di "Stronger Than Pride" di Sade (possiamo definirlo l'aggiornamento di quel pezzo), per poi trasformarsi con il rap di Dr. Dre, con il quale collabora da 7 anni per un connubio davvero perfetto.
La canzone, che entrerà in rotazione radiofonica a partire dal 1° agosto 2014, è molto bella ed intensa, ed in essa gli artisti recitano di mettere da parte l'orgoglio per lasciare che l'amore li pervada del tutto.
L'affascinante video ufficiale uscito a metà febbraio 2014, è in bianco e nero, ed è impreziosito dalle sequenze in modalità "reverse".
Potete vederlo appena dopo l'immagine relativa alla copertina ed a seguire potete leggere le parole in inglese.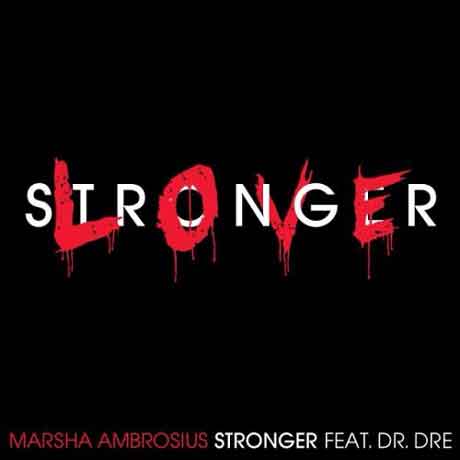 Testo Stronger – Marsha Ambrosius ft. Dr. Dre
[Intro: Marsha Ambrosius aAnnotatend (Dr. Dre)]
I won't pretend
That I intend to stop living
I won't pretend
I'm good at forgiving
But I can't hate you
Although I have tried
I, I, I
(That's pride)
(Pride)
(Later on tonight)
(We fight through that shit)
[Verse 1: Dr. Dre]
Like every other hour when I think about you
So now and then I drink about you
Trying to numb the pain with Juice and Gin
It's like abuse, what's the use of the bumps and bruises
If we moving towards a losing end
If I'm losing you then I refuse to win
Went from friendships with benefits
Funerals and your innocence
I can help you reminisce we in Madrid
On some double O 7 shit, we off the grid
Parting moments of pleasure, we never thought we'd ever
Suffer the consequences, the problem is, there's a problem trying to kick this addiction
We probably can't resolve it without causing some friction
This is non-fiction, the definition of a true story
I'm like fuck pride baby that's the kind of shit you do for me
Suicide it's a suicide, ready to die, you down to ride or what?
[Pre-Hook: Marsha Ambrosius]
I won't pretend
That I intend to stop living
I won't pretend
That I'm good at forgiving
But I can't hate you
Although I have tried
[Hook 1: Marsha Ambrosius]
I still really really love you
My love is stronger than pride
I still really really love you
[Verse 2: Marsha Ambrosius]
Sitting here wasting my time
Would be like
Waiting here for the sun to rise
It's all too clear
Things come and go
Sitting here waiting for you
Would be like waiting for winter
It's gonna be cold
There may even be snow
[Hook 2: Marsha Ambrosius]
I still really really love you
Love is stronger than pride
I still really really love you
Love is stronger
I still really love
Love is stronger than pride
[Outro: Marsha Ambrosius]
My love, my love
Stronger than pride
Hey
In love, in love, in love
Oh (harmonized scales) no no
My love, my love, my love