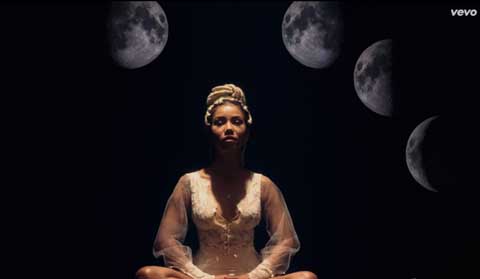 The Pressure è il nuovo singolo della cantante e cantautrice californiana classe 1988, Jhené Aiko Efuru Chilombo artisticamente conosciuta come Jhené Aiko o semplicemente Jhené.
Questa canzone è la seconda estratta dal debut studio album Souled Out, che vedrà la luce il prossimo 9 settembre. E' possibile ascoltare l'anteprima del disco su iTunes Radio. Ecco la tracklist:
1. "Limbo Limbo Limbo" 4:19
2. "W.A.Y.S." 3:58
3. "To Love & Die" (featuring Cocaine 80s) 3:23
4. "Spotless Mind" 4:28
5. "It's Cool" 3:55
6. "Lyin King" 3:33
7. "Wading" Dot Da Genius 4:35
8. "The Pressure" 3:57
9. "Brave" 3:52
10. "Eternal Sunshine" 3:30
11. "Promises" (featuring Miyagi and Namiko) 4:58
12. "Pretty Bird (Freestyle)" (featuring Common) 4:49
Dopo il bel primo estratto "To Love & Die", arriva il video ufficiale del secondo tassello della prima vera era discofrafica della Aiko.
Si tratta di una midtempo scritta dalla cantante insieme a Mac Robinson e Brian Warfield, e prodotta dai The Fisticuffs, ovvero i suoi producers di fiducia.
L'inedito parla dei problemi di relazione, in particolar modo dello stress che ne comporta, e tramite l'appropriato filmato diretto da Childish Gambino e Calmatic, si mette in risalto tale tematica. Le immagini mostrano anche un cameo della figlioletta Namiko.
Ecco il video seguito dalle parole in inglese che compongono questa nuova canzone.
Testo The Pressure – Jhené Aiko
I care about you baby, baby
More than you'll ever know
More than you'll ever know
Please do not drive me crazy, crazy
Unless you're gonna go
With me
No pressure
No pressure, I know you're real
The pressure
The pressure will make you feel
Up till the sun rises
There's no compromising
I know, I know, I know
You are such a liar
I never denied you
I was for sure
But it's really out of my control
The way you feel is not my problem
I don't wanna see you go
But I don't have time to solve this
And you don't have the right
After all you put me through
I'm starting to realise
Pressure
The pressure I know you feel
Pressure
The pressure just keep it real
Major weed smoke in the air
Pass it like you just don't care
Have you seen my fucks to give?
I have none, I cannot live with
The pressure
The pressure you know I feel
The pressure
The pressure to keep it real
Pay attention to the signs
Stay and listen, you will find
Everything, ain't rocket science
Every gem is not a diamond
But the pressure
The pressure will make you feel
The pressure
The pressure
The pressure
The pressure will make you feel…
Real