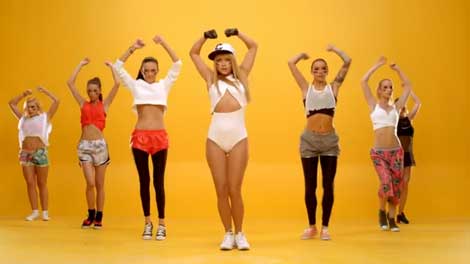 Aggiornamento: è uscito il video ufficiale che accompagna Good Time, nuovo singolo di Inna ft. Pitbull. Nelle immagini vediamo la cantante rumena in splendida forma, ballare insieme ad altri personaggi ma non solo…
2 luglio 2014
Si intitola Good Time il nuovo singolo della cantante e cantautrice rumena Inna, con la collaborazione del rapper americano Pitbull.
Questa canzone anticipa il rilascio del nuovo progetto discografico LatINNA, che dovrebbe essere pubblicato quest'estate via Roton, Ultra e Universal Music, ma che al momento non ha una data d'uscita ufficiale. A distanza di oltre un anno dal rilascio dell'album Party Never Ends, la cantante dance rumena sta per tornare con quest'atteso quarto progetto discografico, sul quale aspettiamo ulteriori dettagli.
Ricordiamo che nel nuovo disco di Inna, sarà quasi sicuramente presente Cola Song, il primo singolo pubblicato lo scorso 15 aprile.
Il brano Good Time, sarà invece rilasciato e quindi disponibile su iTunes, il prossimo 15 luglio.
Dopo la copertina, potete vedere il lyric video e leggere le parole in inglese che compongono l'inedito.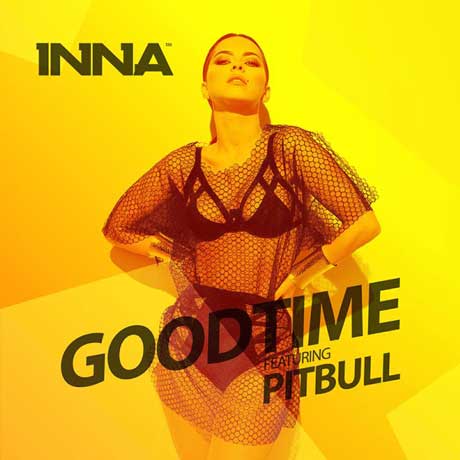 Testo Good Time – Inna feat. Pitbull
[Pitbull:]
Mr worldwide and an International sensation Inna
Let's have a good time!
Knick knack, patty whack
Give your boy a bone
Mister 305 but I'm globally known
I'm in the zone, I ain't talking 23
But when it comes to women,
You may bring 2,3
Oui oui, si si
Who we? You me, me her,
Sounds like a good time, for sure!
Say ayo ayo ayo ayo
Come on everybody
Ayo ayo ayo ayo
Let's get it started
Ayo ayo ayo ayo
Come on everybody
Everybody everybody everybody everybody
If you're feeling like good time
Good time good time
Come on up everybody
Body, everybody
Let's all have the good time
Good time good time
Come on up everybody
Body, everybodyyyy
Stay up for days like we got no where to go,
Don't wanna sleep cause tonight
Time is all we know
And there's only one thing left for me
To say: ayo ayo ayo ayo
We're gonna have good time
We gotta stay a little longer
When it all goes down,
Put your hands on me baby
You know it feels right,
A little private party is what I want right now
Everybody scream & shout
We're gonna o all night!
Say ayo ayo ayo ayo
Come on everybody
Ayo ayo ayo ayo
Let's get it started
Ayo ayo ayo ayo
Come on everybody
Everybody everybody everybody everybody
If you're feeling like good time
Good time good time
Come on up everybody
Body, everybody
Let's all have the good time
Good time good time
Come on up everybody
Body, everybody
If you're feeling like good time
Good time good time
Come on up everybody
Body, everybody
Let's all have the good time
Good time good time
Come on up everybody
Body, everybodyyyy
[Pitbull]
Say ayo ayo ayo ayo
Come on everybody
Ayo ayo ayo ayo
Let's get it started
Ayo ayo ayo ayo
Come on everybody
Everybody everybody everybody everybody
If you're feeling like good time
Good time good time
Come on up everybody
Body, everybody
Let's all have the good time
Good time good time
Come on up everybody
Body, everybodyyyy