10 Million People è il nuovo singolo del cantante e rapper britannico Example, quarto estratto da Live Life Living, quinto studio album pubblicato lo scorso7  luglio via Epic Records.
Dopo "All the Wrong Places", "Kids Again" e "One More Day (Stay with Me)", arriva il quarto tassello della nuova era discografica di quest'artista, che sarà pubblicato nelle prossime settimane, presumibilmente ad inizio ottobre.
Il brano è stato scritto da Example insieme a Alf Bamford e Fraser T Smith, mentre la produzione è opera di quest'ultimo, Critikal e Example.
Il video ufficiale è disponibile dallo scorso 26 agosto, ed è stato girato durante la sua performance al FIB Festival, ospitato a Benicassim il 19 luglio 2014.
Potete vedere il filmato subito dopo l'immagine relativa alla copertina (è stato spostato ad inizio articolo). Presente anche il testo in inglese.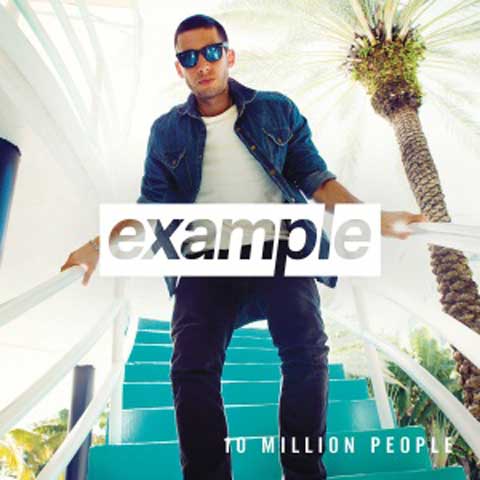 Testo 10 Million People – Example
Take a leaf out of Peter Pan's manual
Keep our attitude can-do
When it's cold, light a candle
Imagine you, dance by the sand like Duran Duran do
Throw your arms like orangutans do
Feel brand new, thank you
This is the Flight of the Navigator
See you all next year, maybe later
12 rounds and we still got stamina
It's just us, no phones, no cameras
Something in the air just grabbing us
Same time next week, thanks for having us
(10 million people, people)
We're hanging on every word
Each and every word they say
We're banging on every door
Never thought we'd see this day
[Pre-Chorus:]
Look at our smile, it spreads for days
Happy we came, we'd lost our way again
Look at our smile, it spreads for days and days
10 million people
10 million people
[Chorus:]
Oh, we knew we'd found the answer
Oh, you said we're all just chancers
Oh, you said we would not last that long
10 million people can't be wrong (come along, come along, come along)
10 million people can't be wrong (come along, come along, come along)
10 million people can't be wrong (come along, come along, come along)
10 million people
Shut us down, shut us down, shut us down
And we'll move to another town, to another town
Shut us down, shut us down, shut us down
And we'll move to another town, to another town
[Pre-Chorus]
10 million people
10 million people
[Chorus]
(10 million people, people)
Shut us down, shut us down, shut us down
And we'll move to another town, to another town
Shut us down, shut us down, shut us down
And we'll move to another town, to another town
[Chorus]
(10 million people, people)