One More Day (Stay With Me) è il titolo del nuovo singolo di Elliot John Gleave alias Example, cantante e rapper britannico.
Il brano in questione, è il terzo estratto dal nuovo progetto discografico Live Life Living, quinto studio album il cui rilascio è previsto per fine giugno.
La canzone è stata scritta e prodotta da Example, Alex Smith e Alf Bamford. Originariamente il titolo del brano era Stay With Me, ma per evitare confusione con il titolo del brano omonimo di Sam Smith, si è deciso di intitolarla One More Day (Stay With Me).
I primi due singoli "All the Wrong Places" e "Kids Again", non hanno ottenuto risultati significativi in classifica, raggiungendo la 13esima piazza della U.K. Singles Chart. Di conseguenza l'interprete ha rilasciato il video ufficiale che accompagna il nuovo singolo One More Day, un uptempo ideale per l'estate, attraverso il quale Example si rivolge alla sua ragazza, dicendole che deve lasciare la città per motivi sconosciuti.
Dopo l'immagine relativa alla cover ufficiale, potete vedere questo filmato (è stato spostato ad inizio articolo) e leggere il testo in inglese.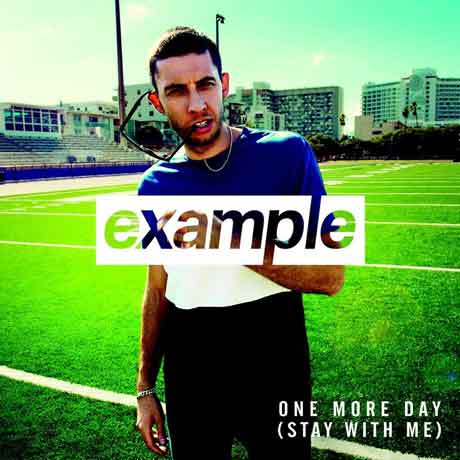 Testo One More Day – Example
Stay with me for just one more day
I have to make a move to somewhere miles away
The only hope we've got is just to smile and pray
Another lesson learned
Another page is turned
Give into your desire, say goodbye or play with fire, play with fire you'll get burned
Another lesson learned
Another page is turned
It's time I have to fly and then you say those precious words
Stay with me
Stay with me
Stay with me, stay with me for just one more day
Stay with me
Stay with me
Stay with me, stay with me for just one more day
You make me lose my focus and the time of day
Just one minute in your arms, the night, it flies away
Another lesson learned
Another page is turned
Give into your desire, say goodbye or play with fire, play with fire you'll get burned
Another lesson learned
Another page is turned
It's time I have to fly and then you say those precious words
Stay with me
Stay with me
Stay with me, stay with me for just one more day
Stay with me
Stay with me
Stay with me, stay with me for just one more day
I'm falling for you, you've fallen for me
Stay with me, stay with me for just one more day
I'm falling for you, you've fallen for me
Stay with me, stay with me for just one more day
Oh I think loving you could be so easy
Oh I think loving you could be so easy
I rate that heavenly girl, she's a keeper
Should be taking her home, make it deeper
Take that leisurely stroll by the beach
Then I've gotta leave country, now apply Visa
I'm gonna bottle our love, take a litre
See you in a couple of weeks
We're like a couple of freaks in Ibiza
Even if we're sat on the sofa, you just won me over
Stay with me
Stay with me
Stay with me, stay with me for just one more day
Stay with me
Stay with me
Stay with me, stay with me for just one more day
I'm falling for you, you've fallen for me
Stay with me, stay with me for just one more day
I'm falling for you, you've fallen for me
Stay with me, stay with me for just one more day