When We Were Young è il nuovo singolo del musicista, produttore e deejay californiano Dillon Francis con i Sultan & Ned Shepard, duo canadese di musica elettronica formato da Ossama Al Sarraf (Sultan) e Ned Shepard. Il brano in questione vede la collaborazione di The Chain Gang of 1974, progetto del musicista e dj americano Kamtin Mohager, di musica indietronica detta anche indie electronic, genere proveniente dalla musica indie con tendenze al genere elettronico.
Pubblicata lo scorso 2 settembre, questa canzone della quale sono stati anche effettuati numerosi remix, viene da qualche giorno trasmessa dalle emittenti radiofoniche italiane.
When We Were Young ha anticipato l'uscita dell'atteso album d'esordio di Francis battezzato Money Sucks, Friends Rule, disponibile in Italia dal 28 ottobre 2014 per Columbia/Sony Music. L'opera propone dodici tracce e collaborazioni con artisti come Martin Garrix, Brendon Urie dei Panic! At The Disco, Major Lazer, DJ Snake ed altri ancora. Ecco la tracklist dell'opera, disponibile nel classico CD e download digitale:
1. "All That" (featuring Twista and Rej3ctz) 3:09
2. "Get Low" (with DJ Snake) 3:32
3. "When We Were Young" (with Sultan + Ned Shepard featuring The Chain Gang of 1974) 3:19
4. "Set Me Free" (with Martin Garrix) 4:07
5. "Drunk All the Time" (featuring Simon Lord) 3:47
6. "Love in the Middle of a Firefight" (featuring Brendon Urie) 3:19
7. "Not Butter" Francis Francis 4:01
8. "I Can't Take It" Francis Francis 4:22
9. "We Are Impossible" (featuring The Presets) 3:35
10. "We Make It Bounce" (featuring Major Lazer and Stylo G) 4:10
11. "What's That Spell" (featuring TJR) 4:26
12. "Hurricane" (featuring Lily Elise) 3:35
In apertura potete vedere il video ufficiale che accompagna il singolo, mentre a seguire trovate il dietro le quinte, il lyric video ed il testo in inglese.
Prima di concludere, ricordiamo che quest'autunno Dillon Francis partirà per un importante headlining tour a sostegno del primo disco in carriera. Il "The Friends Rule Tour" partirà il 17 novembre da Nashville e toccherà le più importanti città degli Stati Uniti e del Cadada, per culminare in una data-evento al Barclays Center di Brooklyn. Ecco il calendario:
11/17 Nashville, TN Marathon Music Works
11/19 Asheville, Carolina del Nord Orange Peel
11/20 Charlotte, Carolina del Nord The Fillmore
11/21 Washington, DC Echo Palcoscenico
11/22 Baltimore, MD Ram Head Live
11/25 Wallingford, CT Dome a Oakdale
11/26 Philadelphia, PA Electric Factory
11/28 Boston, MA House of Blues
12/1 Toronto, ON Danforth Music Hall
12/5 Chicago, IL Aragon Ballroom
12/6 Minneapolis, MN Skyway Teatro
12/9 Madison, WI Orpheum Theatre
12/10 Kansas City, MO Arvest Bank Theatre at The Midland
12/12 Broomfield, CO 1st Bank Center
12-13 Salt Lake City, UT In The Venue
12/18 Oakland, CA Fox Theater
12/21 Los Angeles, CA Shrine Auditorium
1/16 Brooklyn, NY Barclays Centro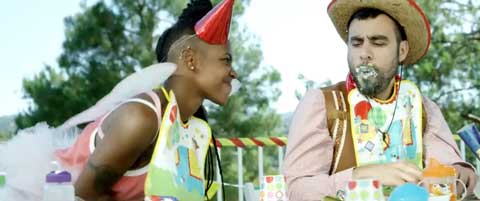 Testo When We Were Young – Dillon Francis + Sultan & Ned Shepard ft. The Chain Gang of 1974 (Digital Download)
[Verse 1]
I know your hopes and dreams
They will collide
Take all your things
You'll go and run and hide
[Bridge]
Do you remember
How it felt when we were young
Do you remember
How it felt when we were young
[Hook 2x]
Today we have the chance
To feel again
To hear the sounds
That brought us in
To laugh, to cry
To live again
Like when we were young
[Verse 1]
[Bridge]
[Hook 2x]