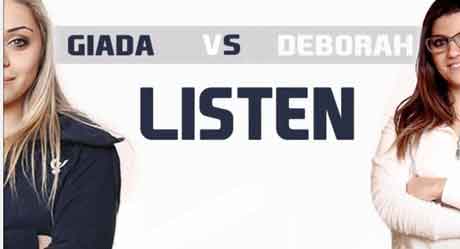 Listen è una cover di Beyoncé, cantata da Deborah Iurato con Giada Agasucci, in occasione del serale di Amici 2014, andato in onda su Canale 5 eccezionalmente domenica 4 maggio. Tale puntata ha decretato l'eliminazione del cantante Paolo.
Come detto Listen è un brano cantato originariamente da Beyoncé, risale al 2006, e fa parte della colonna sonora di "Dreamgirls".
Una canzone molto bella ed allo stesso tempo difficile da interpretare, non per queste 2 cantanti che hanno grandi capacità canore, tanto che Luca Argentero al termine della performance, ha tributato addirittura una personale standing ovation alle due sfidanti.
Non è chiaro se Listen farà parte dell'EP di debutto della Iurato, in uscita il prossimo 13 maggio, in quanto la tracklist non è ancora stata svelata. Di seguito potete ascoltare l'audio dell'esibizione. Il video potete vederlo quì.
Testo Listen
Listen,
To the song here in my heart
A melody I've start
But can't complete
Listen, to the sound from deep within
It's only beginning
To find release
Oh,
the time has come
for my dreams to be heard
They will not be pushed aside and turned
Into your own
all cause you won't
Listen….
Listen,
I am alone at a crossroads
I'm not at home, in my own home
And I tried and tried
To say whats on my mind
You should have known
Oh,
Now I'm done believing you
You don't know what I'm feeling
I'm more than what, you made of me
I followed the voice
you gave to me
But now I gotta find, my own..
You should have listened
There is someone here inside
Someone I'd thought had died
So long ago
Ohh I'm free now and my dreams to be heard
They will not be pushed aside or worse
Into your own
All cause you won't
Listen…
I don't know where I belong
But I'll be moving on
If you don't….
If you won't….
LISTEN!!!…
To the song here in my heart
A melody I've start
But I will complete
Oh,
Now I'm done believing you
You don't know what I'm feeling
I'm more than what, you made of me
I followed the voice, you think you gave to me
But now I gotta find, my own..
my own…