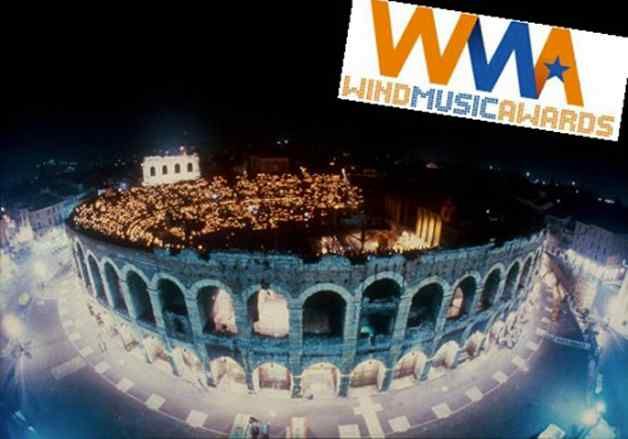 Esce il 22 giugno 2012 la compilation Wind Music Awards 2012 che è stata prodotta dalla Warner Music.
La compilation è formata da 2 CD che conterranno grandissimi successi della musica italiana ed internazionale.
Il WMA si è svolto all'Arena di Verona il 26 maggio 2012 e sarà trasmesso da Rai 1 ed in prima serata il prossimo 2 luglio.
CD 1
LIGABUE SOTTO BOMBARDAMENTO
LAURA PAUSINI LE COSE CHE NON MI ASPETTO
BIAGIO ANTONACCI TI DEDICO TUTTO
GIORGIA DOVE SEI
TIZIANO FERRO LA DIFFERENZA TRA ME E TE
ARISA L'AMORE È UN'ALTRA COSA
MODA' TAPPETO DI FRAGOLE
NOEMI SONO SOLO PAROLE
ANTONELLO VENDITTI UNICA
RAPHAEL GUALAZZI LOVE GOES DOWN SLOW
ANNALISA SENZA RISERVA
J-AX DENTRO ME
MARCO CARTA MI HAI GUARDATO PER CASO
FIORELLA MANNOIA QUANDO L'ANGELO VOLA
ALESSANDRA AMOROSO TI ASPETTO
LUCIO DALLA L'ANNO CHE VERRÀ (Bonus track)
CD 2
TRAIN DRIVE
FUN. (feat. JANELLE MONÀE) WE ARE YOUNG
YOUNG THE GIANT COUGH SYRUP
THE BLACK KEYS GOLD ON THE CEILING
ONE DIRECTION ONE THING
COLDPLAY EVERY TEARDROP IS A WATERFALL
KASABIAN GOODBYE KISS; 08.ED SHEERAN LEGO HOUSE
DAVID GUETTA (feat. SIA) TITANIUM
SNOOP DOGG & WIZ KHALIFA (feat. BRUNO MARS) YOUNG, WILD & FREE
JASON DERULO FIGHT FOR YOU
SIMPLE PLAN (feat. SEAN PAUL) SUMMER PARADISE
EMELI SANDÉ NEXT TO ME
NOEL GALLAGHER AKA… WHAT A LIFE!
FLO RIDA (feat. SIA) WILD ONES
B.o.B. SO GOOD; 17.PLANET FUNK THESE BOOTS ARE MADE FOR WALKIN'.
MICHEL TELÒ AI SE EU TE PEGO (Bonus track)
TACABRO TACATÀ (Bonus track)
Vedi anche: Wind Music Awards 2013 Compilation.