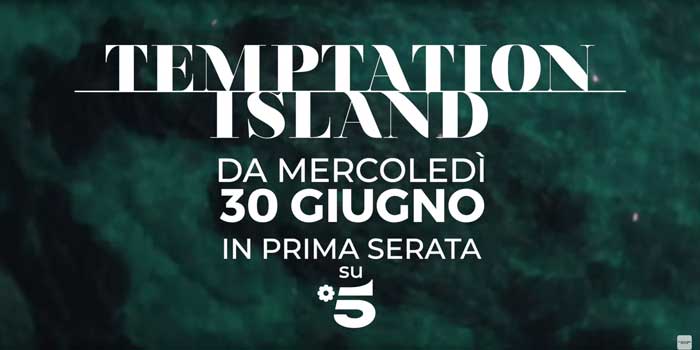 Dal 30 giugno 2021, viene trasmessa in prima serata su Canale 5, la decima edizione del reality show Temptation Island, condotto per l'ottavo anno consecutivo da Filippo Bisciglia. In questo articolo parliamo della canzone relativa alla pubblicità e della sigla. Iniziamo dallo spot.
La canzone della pubblicità di Temptation Island 2021
Edit: nel nuovo spot del programma, trasmesso da luglio, viene invece utilizzata Follow You, recente singolo degli Imagine Dragons, uscito il 12 marzo 2021. Ecco il video, online dal successivo 16 marzo.
Il brano utilizzato nello spot promozionale si intitola Arabian Night ed è opera di KVPV, emergente e giovane artista bielorusso. Almeno per il momento, non sono invece in grado di dirvi di chi sia l'angelica voce femminile, ma una cosa è certa: la canzone della promo non è identica all'originale.
Download su: Amazon – Ascolta su: Apple Music
La sigla di Temptation Island 2021
Il titolo della canzone è Love the Way You Lie, singolo del rapper statunitense Eminem, impreziosito dalla voce della cantautrice barbadiana Rihanna, pubblicato il 9 agosto 2010 come secondo estratto dal settimo album in studio Recovery, rilasciato il successivo 18 giugno. Il testo e il video.
Scritto dallo stesso Eminem con la collaborazione di Alex da Kid e Skylar Grey, e prodotto da Makeba Riddick e Alex da Kid, questo pezzo riscosse molto velocemente un grande successo in tutto il mondo. Solo in Italia, il singolo è stato certificato Platino, poco se si considera che negli USA ha conquistato 12 dischi di Platino, 14 in Australia, 3 in Russia, Svizzera e UK, 2 in Germania a Nuova Zelanda.
Love the Way You Lie ha vinto il premio come Best Rap/Hip-Hop Track ai Teen Choice Awards 2010, mentre ai Grammy Awards 2011, ha ricevuto ben cinque nominations nelle categorie miglior canzone rap, miglior collaborazione con un cantante rap, canzone dell'anno, registrazione dell'anno e miglior cortometraggio musicale. A proposito di video, il filmato è stato diretto da Joseph Kahn e parla di una violenza domestica di due coniugi, con l'uomo interpretato da Dominic Monaghan e la donna da Megan Fox, ma a quanto sembra, il tutto era solamente un sogno.
---
Video e Testo di Love the Way You Lie
Download su Amazon – Ascolta su: Apple Music
[Chorus: Rihanna]
Just gonna stand there and watch me burn?
Well, that's all right because I like the way it hurts
Just gonna stand there and hear me cry?
Well, that's all right because I love the way you lie
I love the way you lie
[Verse 1: Eminem]
I can't tell you what it really is, I can only tell you what it feels like
And right now, there's a steel knife in my windpipe
I can't breathe, but I still fight while I can fight
As long as the wrong feels right, it's like I'm in flight
High off her love, drunk from her hate
It's like I'm huffin' paint and I love her, the more I suffer, I suffocate
And right before I'm about to drown, she resuscitates me
She fuckin' hates me, and I love it — "Wait!
Where you going?" — "I'm leaving you!" — "No, you ain't!
Come back!" — We're runnin' right back, here we go again
It's so insane, 'cause when it's goin' good, it's goin' great
I'm Superman with the wind at his back, she's Lois Lane
But when it's bad, it's awful, I feel so ashamed
I snapped, "Who's that dude?", I don't even know his name
I laid hands on her, I'll never stoop so low again
I guess I don't know my own strength
[Chorus: Rihanna]
Just gonna stand there and watch me burn?
Well, that's all right because I like the way it hurts
Just gonna stand there and hear me cry?
Well, that's all right because I love the way you lie
I love the way you lie
I love the way you lie
[Verse 2: Eminem]
You ever love somebody so much you can barely breathe when you're with 'em?
You meet, and neither one of you even know what hit 'em
Got that warm fuzzy feelin', yeah, them chills, used to get 'em
Now you're gettin' fuckin' sick of lookin' at 'em?
You swore you'd never hit 'em, never do nothin' to hurt 'em
Now you're in each other's face
Spewin' venom in your words when you spit 'em
You push, pull each other's hair, scratch, claw, bit 'em
Throw 'em down, pin 'em
So lost in the moments when you're in 'em
It's the rage that took over, it controls you both
So they say you're best to go your separate ways
Guess that they don't know ya
'Cause today, that was yesterday, yesterday is over
It's a different day, sound like broken records playin' over
But you promised her, next time you'll show restraint
You don't get another chance, life is no Nintendo game
But you lied again
Now you get to watch her leave out the window
Guess that's why they call it window pane
[Chorus: Rihanna]
Just gonna stand there and watch me burn?
Well, that's all right because I like the way it hurts
Just gonna stand there and hear me cry?
Well, that's all right because I love the way you lie
I love the way you lie
I love the way you lie
[Verse 3: Eminem]
Now, I know we said things, did things that we didn't mean
Then we fall back into the same patterns, same routine
But your temper's just as bad as mine is, you're the same as me
When it comes to love you're just as blinded, baby, please
Come back, it wasn't you, baby, it was me
Maybe our relationship isn't as crazy as it seems
Maybe that's what happens when a tornado meets a volcano
All I know is I love you too much to walk away though
Come inside, pick up your bags off the sidewalk
Don't you hear sincerity in my voice when I talk?
Told you this is my fault, look me in the eyeball
Next time I'm pissed, I'll aim my fist at the drywall
Next time? There won't be no next time!
I apologize, even though I know it's lies
I'm tired of the games, I just want her back, I know I'm a liar
If she ever tries to fuckin' leave again, I'ma tie her
To the bed and set this house on fire, just gonna—
[Chorus: Rihanna & Eminem]
Just gonna stand there and watch me burn?
Well, that's all right because I like the way it hurts
Just gonna stand there and hear me cry?
Well, that's all right because I love the way you lie
I love the way you lie
I love the way you lie