Queen Forever nuovo album-compilation dei Queen con Freddie Mercury, in uscita l'11 novembre 2014 nel formato CD, e disponibile dal giorno prima in download digitale.
La versione standard dell'opera è formata da 20 tracce, mentre l'edizione deluxe limitata propone un doppio CD, ognuno dei quali formato da diciotto pezzi.
Il nuovo disco dei Queen, propone anche tre inediti di Freddie Mercury, e l'atteso duetto tra Freddie Mercury e Michael Jackson.
Una delle nuove canzoni è There Must Be More to Life Than This con il compianto re del pop, che arriva dalle sessioni di registrazione dell'album The Works pubblicato nel 1984. Il duetto nasce da una canzone scritta da Freddie Mercury durante le sessioni di registrazione dell'album "Hot Space" (1981). I Queen registrarono una backing track, ma il brano fu è tuttavia mai stato completato. Mercury andò quindi a trovare Jackson nello studio di Los Angeles, dove furono registrate le parti di Michael per una versione ancora non definitiva. Infine il gruppo riprese in mano la traccia nel 1984, durante le registrazioni di "The Works", ma ancora non in forma definitiva, ed a un anno di distanza, una versione solista della canzone appare nell'album di debutto di Freddie, "Mr Bad Guy" (1985). Questa nuova produzione è stata prodotta e remixata dal celebre producer William Orbit (Robbie Williams, Madonna).
Sempre per quel che concerne gli inediti, è presente il brano di Brian May Let Me in Your Heart Again, registrata per la prima volta durante le sessioni dell'album "The Works". Tuttavia la canzone non fu mai completata e fino ad oggi è rimasta chiusa in un cassetto. Si tratta di un brano risalente al periodo d'oro delle hits "Radio Ga Ga" e "I Want To Break Free", che mette in risalto la splendida voce di Mercury, e ospita nuove registrazioni di Brian e Roger per quanto riguarda le parti di chitarra e le backing vocals.
Il terzo ed ultimo pezzo inedito è Love Kills, brano co-scritto da Mercury nel lontano 1984 insieme al produttore e compositore Giorgio Moroder, per la colonna sonora del film muto di Fritz Lang intitolato "Metropolis".
Per il resto, sono presenti le grandi hits della rock band britannica, brani classici e nuovi take di canzoni ben conosciute, affiancate a registrazioni che Brian May. Una collezione messa insieme dallo stesso May e Roger Taylor che rappresenta il meglio del meglio delle canzoni d'amore dei Queen.
Dopo l'immagine relativa alla copertina frontale della standard edition, potete leggere i titoli di tutte le canzoni. Tra partentesi gli autori e l'album nei quali furono contenute.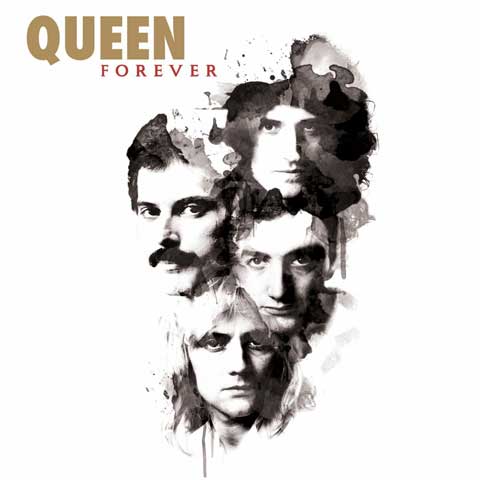 Tracklist Queen Forever – Queen (reperibile su Amazon nei formati Audio CD, Audio CD Edizione Deluxe, Digital Download e Digital Download Deluxe con 36 canzoni)
1. "Let Me in Your Heart Again" (2014 rimasterizzata) (scritta da Brian May – Album originale: Anita Dobson's Talking of Love) 4:31
2. "Love Kills" (2014 rimasterizzata) (scritta da Freddie Mercury/Giorgio Moroder – Album: Giorgio Moroder's Metropolis Soundtrack) 4:12
3. "There Must Be More to Life Than This" (con Michael Jackson) (scritta da Freddie Mercury – Album: Freddie Mercury's Mr. Bad Guy) 3:20
4. "It's a Hard Life" (2014 rimasterizzata; con dissolvenza) (scritta da Freddie Mercury – Album: The Works) 4:06
5. "You're My Best Friend" (2011 rimasterizzata) (scritta da John Deacon – Album: A Night at the Opera) 2:52
6. "Love of My Life" (2011 rimasterizzata) (scritta da Freddie Mercury – Album: A Night at the Opera) 3:33
7. "Drowse" (2011 rimasterizzata) (scritta da Roger Taylor – Album: A Day at the Races) 3:38
8. "Long Away" (2011 rimasterizzata) (scritta da Brian May – Album: A Day at the Races) 3:32
9. "Lily of the Valley" (2014 rimasterizzata; no intro) (scritta da Freddie Mercury – Album: Sheer Heart Attack) 1:39
10. "Don't Try So Hard" (2011 rimasterizzata) (scritta da Queen (Mercury) – Album: Innuendo) 3:39
11. "Bijou" (2011 rimasterizzata) (scritta da Queen (Mercury/May) – Album: Innuendo) 3:36
12. "These Are the Days of Our Lives" (2011 rimasterizzata) (scritta da Queen (Taylor) – Album: Innuendo) 4:14
13. "Las Palabras de Amor (The Words of Love)" (2011 rimasterizzata) (scritta da Brian May – Album: Hot Space) 4:31
14. "Who Wants to Live Forever" (2011 rimasterizzata) (scritta da Brian May – Album: A Kind of Magic) 5:15
15. "A Winter's Tale" (2011 rimasterizzata) (scritta da Queen (Mercury) – Album: Made in Heaven) 3:48
16. "Play the Game" (2014 rimasterizzata) (scritta da Freddie Mercury – Album: The Game) 3:14
17. "Save Me" (2014 rimasterizzata; con dissolvenza) (scritta da Brian May – Album: The Game) 3:46
18. "Somebody to Love" (2014 rimasterizzata; con dissolvenza) (scritta da Freddie Mercury – Album: A Day at the Races) 4:52
19. "Too Much Love Will Kill You" (2011 rimasterizzata) (scritta da Brian May, Frank Musker, Elizabeth Lamers – Album: Made in Heaven) 4:19
20. "Crazy Little Thing Called Love" (2011 rimasterizzata) (scritta da Freddie Mercury – Album: The Game) 2:43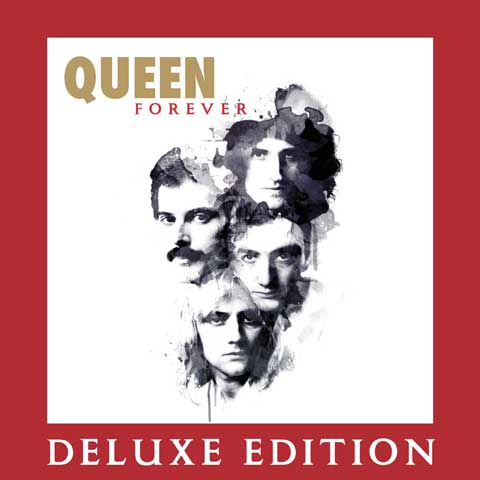 Tracklist Deluxe Edition
CD 1
1. "Let Me in Your Heart Again" (2014 rimasterizzata) (scritta da Brian May – Album originale: Anita Dobson's Talking of Love) 4:31
2. "Love Kills" (2014 rimasterizzata) (scritta da Freddie Mercury/Giorgio Moroder – Album: Giorgio Moroder's Metropolis Soundtrack) 4:12
3. "There Must Be More to Life Than This" (con Michael Jackson) (scritta da Freddie Mercury – Album: Freddie Mercury's Mr. Bad Guy) 3:20
4. "Play the Game" (2014 rimasterizzata) (scritta da Freddie Mercury – Album: The Game) 3:14
5. "Dear Friends" (2011 rimasterizzata) (Scritta da Brian May – Album: Sheer Heart Attack) 1:08
6. "You're My Best Friend" (2011 rimasterizzata) (scritta da John Deacon – Album: A Night at the Opera) 2:52
7. "Love of My Life" (2011 rimasterizzata) (scritta da Freddie Mercury – Album: A Night at the Opera) 3:33
8. "Drowse" (2011 rimasterizzata) (scritta da Roger Taylor – Album: A Day at the Races) 3:38
9. "You Take My Breath Away" (2014 rimasterizzata / No dissolvenza) (Scritta da Freddie Mercury – Album: A Day at the Races) 4:38
10. "Spread Your Wings" (2014 rimasterizzata / con dissolvenza) (Scritta da John Deacon – Album: News of the World) 4:30
11. "Long Away" (2011 rimasterizzata) (scritta da Brian May – Album: A Day at the Races) 3:32
12. "Lily of the Valley" (2014 rimasterizzata; no intro) (scritta da Freddie Mercury – Album: Sheer Heart Attack) 1:39
13. "Don't Try So Hard" (2011 rimasterizzata) (scritta da Queen (Mercury) – Album: Innuendo) 3:39
14. "Bijou" (2011 rimasterizzata) (scritta da Queen (Mercury/May) – Album: Innuendo) 3:36
15. "These Are the Days of Our Lives" (2011 rimasterizzata) (scritta da Queen (Taylor) – Album: Innuendo) 4:14
16. "Nevermore" (2011 rimasterizzata) (scritta da Freddie Mercury – Album: Queen II) 1:18
17. "Las Palabras de Amor (The Words of Love)" (2011 rimasterizzata) (scritta da Brian May – Album: Hot Space) 4:31
18. "Who Wants to Live Forever" (2011 rimasterizzata) (scritta da Brian May – Album: A Kind of Magic) 5:15
CD 2
1. "I Was Born to Love You" (2011 rimasterizzata) (scritta da Freddie Mercury – Album: Made in Heaven) 4:49
2. "Somebody to Love" (2014 rimasterizzata; con dissolvenza) (scritta da Freddie Mercury – Album: A Day at the Races) 4:52
3. "Crazy Little Thing Called Love" (2011 rimasterizzata) (scritta da Freddie Mercury – Album: The Game) 2:43
4. "Friends Will Be Friends" (2011 rimasterizzata) (scritta da Freddie Mercury/John Deacon- Album: A Kind of Magic) 4:06
5. "Jealousy" (2011 rimasterizzata) (scritta da Freddie Mercury – Album: Jazz) 3:13
6. "One Year of Love" (2011 rimasterizzata) (scritta da John Deacon – Album: A Kind of Magic) 4:27
7. "A Winter's Tale" (2011 rimasterizzata) (scritta da Queen (Mercury) – Album: Made in Heaven) 3:48
8. "'39" (2014 rimasterizzata / con dissolvenza) (scritta da Brian May – Album: A Night at the Opera) 3:30
9. "Mother Love" (2011 rimasterizzata) (scritta da Mercury/Brian May – Album: Made in Heaven) 4:47
10. "It's a Hard Life" (2014 rimasterizzata / con dissolvenza) (scritta da Freddie Mercury – Album: The Works) 4:06
11. "Save Me" (2014 rimasterizzata / con dissolvenza) (scritta da Brian May – Album: The Game) 3:46
12. "Made in Heaven" (2011 rimasterizzata ) (scritta da Freddie Mercury – Album: Made in Heaven) 5:25
13. "Too Much Love Will Kill You" (2011 rimasterizzata)(scritta da Brian  May/Frank Musker/Elizabeth Lamers – Album: Made in Heaven) 4:20
14. "Sail Away Sweet Sister" (2011 rimasterizzata) (scritta da Brian May – Album: The Game) 3:33
15. "The Miracle" (2014 rimasterizzata / con dissolvenza) (scritta da Queen – Album: The Miracle) 4:57
16. "Is This the World We Created…?" (2014 rimasterizzata / con dissolvenza) (scritta da Freddie Mercury/Brian May – Album: The Works) 2:12
17. "In the Lap of the Gods… Revisited" (2011 rimasterizzata) (scritta da Freddie Mercury – Album: Sheer Heart Attack) 3:46
18. "Forever" (2011 rimasterizzata) (scritta da Brian May – Album: A Kind of Magic) 3:21