Dal 26 febbraio 2013, sarà disponibile il cd della colonna sonora del film Gangster Squad, pellicola 2013 diretta da Ruben Fleischer, nei cinema italiani dallo scorso 21 febbraio.
Il film si ispira alle vicende del criminale americano Mickey Cohen e vede protagonisti Emma Stone, Josh Brolin, Nick Nolte, Sean Penn e Ryan Gosling.
La soundtrack è suddivisa in 2 parti: la prima ha presenti le musiche composte da Steve Jablonsky e la seconda contiene canzoni classiche dell'epoca in cui la pellicola è ambientata.
Nel trailer, possiamo invece ascoltare un brano di Jay-Z estratto dal disco del 2006 "Kingdom Come". Il pezzo si intitola Oh My God.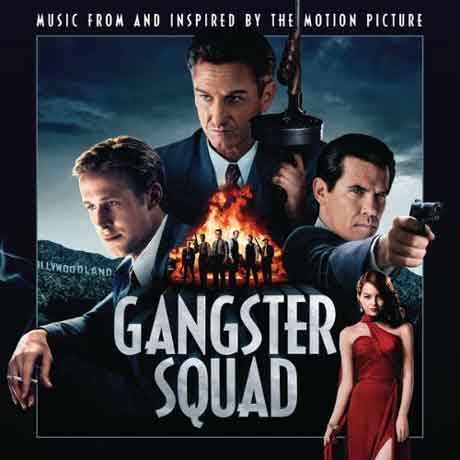 Tracklist Gangster Squad (Music From and Inspired By the Motion Picture). Sopra la copertina. Disponibile su Amazon dal 26 febbraio 2013.
1 The Hills of California (feat. Paul Weston and His Orchestra) Johnny Mercer & The Pied Pipers 2:30
2 Mr. Five By Five – Imelda May 3:00
3 Early Autumn – The Gangster Squad Movie Band 3:24
4 Chicken Shack Boogie – The Gangster Squad Movie Band & Delandis 2:32
5 Bull Fiddle Boogie – Pee Wee King 2:37
6 A Little Bird Told Me – Kitty, Daisy & Lewis 2:32
7 Big Jay's Hop / Blow Blow Blow – Big Jay McNeely 2:36
8 Chica Chica Boom Chic – Sharmila Guha & The Gangster Squad Movie Band 2:24
9 Ole Buttermilk Sky – Hoagy Carmichael 2:16
10 Bless You (For the Good That's In You) [feat. Mel Tormé] – Peggy Lee 2:53
11 – Early Autumn (feat. The Living Sisters) – St. Vincent 3:26
12 Bless You (For the Good That's In You) – Delta Rae 2:48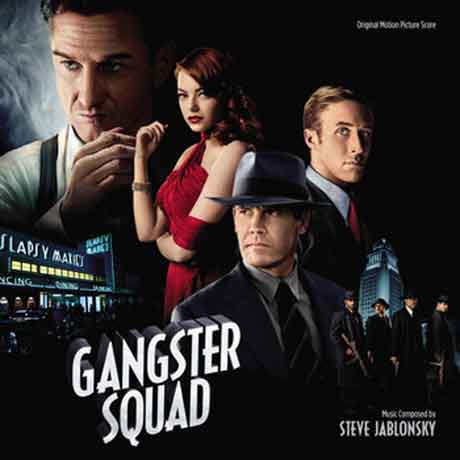 Tracklist colonna sonora Gangster Squad (Original Motion Picture Score). Sopra la cover. Disponibile su Amazon dall'11 gennaio 2013.
1 His Name Is Mickey Cohen – 2:25
2 Welcome to los Angeles – 3:12
3 He Can't Have You – 1:39
4 War for the Soul of La – 2:48
5 There Goes Our Ride – 1:14
6 You Can't Shoot Me – 3:52
7 Always Knew I'd Die in Burbank – 2:29
8 You're Talking to God – 0:50
9 The Bug – 2:18
10 Hot Potato With a Grenade – 3:18
11 You Know the Drill – 1:06
12 I Was Just Hopin' to Take You to Bed – 1:26
13 Kill 'Em All – 2:00
14 Chinatown – 4:28
15 Keeler – 2:18
16 Connie Lives – 1:53
17 Let's Finish It – 2:25
18 Union Station – 1:36
19 Light 'Em Up – 7:31
20 The City of Angels – 4:06
21 Gangster Squad – 2:57