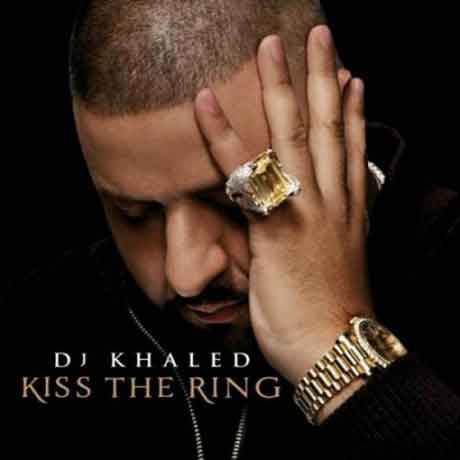 Il 21 agosto 2012, è uscito il nuovo album di Dj Khaled intitolato Kiss the Ring.
Si tratta del suo sesto disco in studio i cui primi estratti sono Take It to the Head e I Wish You Would pubblicati il 3 aprile ed il 27 giugno.
Al suo interno troviamo 12 tracce per quel che concerne la versione standard, mentre in quella deluxe sono presenti 3 canzoni aggiuntive.
Vediamo tutti i titoli.
Tracklist Kiss The Ring – Dj Khaled
1. "Shout Out to the Real" (Feat. Meek Mill, Ace Hood and Plies) (Produced by Jahlil Beats/Co-Produced by DJ Khaled)
2. "Bitches & Bottles (Let's Get It Started)" (Feat. Lil Wayne, T.I. and Future) (Produced by Mike Will) Video Ufficiale
3. "I Wish You Would" (Feat. Kanye West and Rick Ross) (Produced by Hit Boy)
4. "Take It to the Head" (Feat. Rick Ross, Nicki Minaj, Chris Brown, and Lil Wayne) (Produced by The Runners/Co-Produced by DJ Khaled)
5. "They Ready" (Feat. J. Cole, Big K.R.I.T. and Kendrick Lamar) (Produced by J. Cole)
6. "I'm So Blessed" (Feat. Big Sean, Ace Hood, Wiz Khalifa and T-Pain) (Produced by K.E./Co-Produced by DJ Khaled)
7. " Hip Hop" (Feat. Scarface, Nas and DJ Premier) (Produced by J.U.S.T.I.C.E. League. Scratchesby DJ Premier)
8. "I Did It for My Dawgz" (Feat. Rick Ross, French Montana, Meek Mill and Jadakiss) (Produced by Beat Bully)
9. "I Don't See Em" (Feat. Birdman, Ace Hood and 2 Chainz) (Produced by Detail)
10. "Don't Pay 4 It" (Feat. Wale, Tyga, Mack Maine and Kirko Bangz) (Produced by The Runners)
11. "Suicidal Thoughts" (Feat. Mavado) (Produced by Boi-1Da)
12. "Outro (They Don't Want War)" (Feat. Ace Hood) (Produced by DJ Toomp)
Deluxe Edition
13. "Don't Get Me Started" (Ace Hood featuring DJ Khaled)
14. "Aktion Pak" (Mavado featuring DJ Khaled)
15. "B-Boyz" (Birdman featuring DJ Khaled, Mack Maine, Kendrick Lamar and Ace Hood)
iTunes bonus track
16. "Piss 'Em Off" (Ace Hood featuring DJ Khaled)