Goodbye Agony è il nuovo singolo dei Black Veil Brides, estratto dall'album Black Veil Brides IV conosciuto anche come BVB IV, quarto disco in studio pubblicato in Italia lo scorso 28 ottobre.
L'opera di cui non abbiamo ancora parlato, è stata prodotta da Bob Rock (Metallica, Mötley Crüe, The Cult) e propone undici tracce quali: 1. "Heart of Fire" "Faithless", "Devil In the Mirror", "Goodbye Agony", "World Of Sacrifice", "Last Rites", "Stolen Omen", "Walk Away", "Drag Me to the Grave", "The Shattered God" e "Crown of Thorns". L'album è in commercio in download digitale e CD.
Dopo il precedente Heart of Fire, arriva il secondo tassello della quarta era discografica della rock band californiana, accompagnato dal video ufficiale uscito nel canale Youtube del gruppo il 31 ottobre scorso.
Per vedere il filmato cliccate sull'immagine presente di seguito dopo la quale, trovate le parole in inglese che compongono la canzone.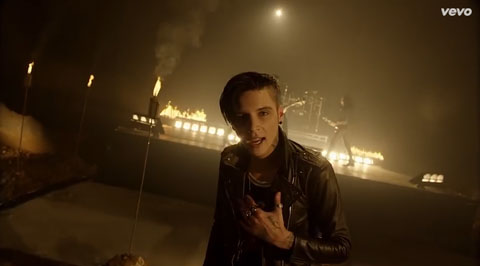 Testo Goodbye Agony – Black Veil Brides (Digital Download)
Heaven's gone, the battle's won
I had to say goodbye
Lived and learned from every fable
Written by your mind
And I wonder how to move on
From all I had inside
Place my cards upon the table
In blood I draw the line
I've given all my pride
Living a life of misery
Always there, just underneath
Haunting me, quietly alone
It's killing me, killing me
Dead and gone, what's done is done
You were all I had become
I'm letting go of what I once believed
So goodbye agony
I watch the stars and setting suns
As the years are passing by
I never knew that hope was fatal
Until I looked it in the eye
And now I'm not sure I am able
To reach the other side
Casting out the light
Living a life of misery
Always there, just underneath
Haunting me, quietly alone
It's killing me, killing me
Dead and gone, what's done is done
You were all I had become
I'm letting go of what I once believed
So goodbye agony
Goodbye agony
Not alone in forgiving
The faithful and the blind
Innocence is forsaken
I leave 'em all behind
And then I see that even angels never die
Living a life of misery
Always there, just underneath
Haunting me, quietly alone
It's killing me, killing me
Dead and gone, what's done is done
You were all I had become
I'm letting go of what I once believed
So goodbye agony
Goodbye agony
Goodbye agony